PERT & CPM
ASSISTANT ENGINEER & ASSISTANT EXECUTIVE ENGINEER
HANDWRITTEN NOTES
ACE ACADEMY TRAINING NOTES
FREE DOWNLOAD PDF
PERT & CPM AE AEE Ace Academy Handwritten Notes PDF Download for free, only at CivilEnggForAll. Keep visiting for more Civil Engineering stuff.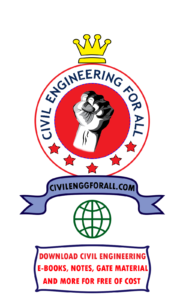 Assistant Executive Engineer (AEE) and Assistant Engineer (AE) are the government posts where Civil Engineers will be recruited in different departments like Irrigation, Rural, Roads, CAD, Ground Water, Tribal Welfare and more. There is a heavy competition for getting the AE and AEE government jobs in different states. ACE Academy is giving one of the top most quality in AE and AEE Government Exams coaching.
Download Transportation Engineering AE and AEE ACE Academy Handwritten Notes at CivilEnggForAll
PERT & CPM AE AEE Ace Academy Handwritten Notes PDF Download
INTRODUCTION TO CPM :
This introduction discusses some factors that make the case for why planning and scheduling is best performed by the Critical Path Method (CPM). It covers some of the history behind its development and relays some thoughts on where the process may be going in the future. The interplay between the theory of mathematics that underlies the methodology and the modifications needed to make the methodology more practical are themes that continue throughout the text. It is hoped that the conclusion drawn by the reader will be that it is the Scheduler who must balance these two ideals, mathematics and engineering, to provide a useful and user friendly tool to the users of CPM in construction management, manufacturing, software design and other users in the world of projects that must be finished on time and within budget.
DOWNLOAD FLUID MECHANICS AE & AEE HANDWRITTEN NOTES : CLICK HERE
Scheduling is a discipline that is performed by every person, every day. Should you first shave or brush your teeth in the morning? If you are scheduling for one person only, the process is rather simple. You can prepare a "ToDo" list and then choose in what order the items on it are to be performed. However, the choice of what to do first is not completely random. Perhaps there are physical restrictions, such as "shower before dressing" or "cook breakfast before eating." Perhaps there are logistical restrictions, such as combining one trip to buy milk, pick up the dry cleaning, and refuel your car, rather than making three trips to accomplish these three items on your "ToDo" list. Perhaps the order of performance is pure personal choice, such as put on right shoe before left shoe.
DOWNLOAD SURVEYING AE & AEE HANDWRITTEN NOTES : CLICK HERE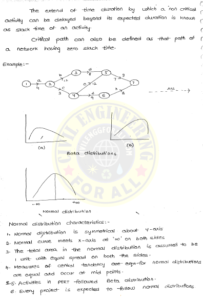 Even at this simple level, not all is what it seems to be. If you are in a hurry, you might begin eating a portion of your breakfast while still cooking the rest. If your dry cleaner is open only from 10:00 AM to 6:00 PM and if your car is very low on gas, you may have to refuel on your way to work, pick up your dry cleaning at lunch, and buy milk on the way home from work. If you have a foot or leg injury, you may need to put on your left shoe first. If you want to schedule the tasks of two or more persons or the work flow of two or more machines (even if both are under the supervision of one person), the process becomes much more complex.
CPM COST ESTIMATE
The first, and perhaps most difficult, step in using CPM for cost control is estimating costs by activity. The traditional method of estimating begins, of course, with the takeoff of material quantities from the drawings and specifications. Then, based on cost records, material unit costs are assigned. Finally, there are overhead costs, including estimates of anticipated supervision and equipment costs as well as a factored portion of the home office costs. Adding all of these costs together results in an accurate bid price. CPM does not offer a replacement for this type of cost estimate.
DOWNLOAD STRUCTURAL ANALYSIS AE & AEE HANDWRITTEN NOTES : CLICK HERE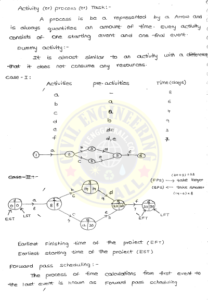 To use CPM in project cost control, a cost must be assigned to each CPM activity. Contractors can expect to be the low bidder on an average of perhaps 10 percent of the work they bid on, and since CPM should only be done on low bids, they can expect to have to do a CPM cost breakdown on only 10 percent of their project estimates.
One way to prepare the CPM cost estimates would be to undertake a second quantity takeoff by activity. This way, the same unit costs and overhead factors would be assigned to those quantities as before. The total resulting activity costs should equal the contract price. The re-estimate would cost about 50 percent more than the original estimate, though, and the adjustments required to equate it to the contract price would be an accountant's nightmare.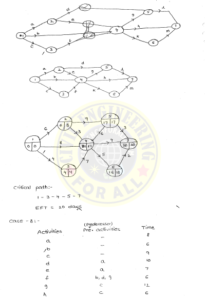 DOWNLOAD TRANSPORTATION ENGINEERING AE & AEE HANDWRITTEN NOTES : CLICK HERE
DOWNLOAD LINK : PERT AND CPM AE & AEE Ace Academy Handwritten Notes PDF : CLICK HERE TO DOWNLOAD
DOWNLOAD STEEL STRUCTURES AE & AEE HANDWRITTEN NOTES : CLICK HERE
---
---
---
OTHER SEARCH RESULTS :
pert and cpm books civil engg for all
civil engg for all pert and cpm books
pert and cpm ae aee notes
download pert and cpm ae aee handwritten notes
pert and cpm ae aee notes download
pert and cpm civil engineering notes
ae aee civil engineering notes download pdf
pert and cpm notes free download pdf
project management civil engineering ae post notes|
civil engg for all ae aee notes
tspsc pert and cpm study notes
pert and cpm tspsc exams notes download pdf