BUILDING MATERIALS
MADE EASY GATE HANDWRITTEN CLASSROOM NOTES
FREE DOWNLOAD PDF
Building Materials Made Easy GATE Notes Free Download PDF. This notes is handwritten in classroom by Made Easy toppers. Also download other subjects notes.
PLEASE NOTE : WE PROVIDE ONLY VERIFIED NOTES AND MATERIALS. ALL THE OTHER NOTES WHICH ARE AVAILABLE IN THE INTERNET WITH THE NAME MADE EASY CIVIL NOTES ARE FAKE AND ARE NORMAL CLASSROOM NOTES OF SOME COLLEGE. WE ALWAYS TRY TO BRING OUT QUALITY NOTES FOR FREE AND FOR THE SAKE OF STUDENTS WHO ARE REALLY WORKING HARD DAY AND NIGHT AIMING GOOD GATE/IES RANKS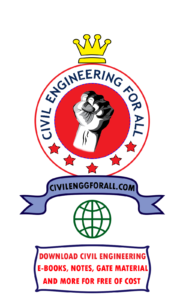 Building Materials Made Easy GATE Notes Free Download PDF
Introduction
All the building structures are composed of different types of materials. These materials are either called building materials or materials of construction. It is very essential for a builder, may be an architecture or engineer or contractor, to become conversant thoroughly with these building materials. The knowledge of different types of material, their properties and uses for different purposes provides and important tool in the hands of the builders in achieving economy in material cost. The material cost in a building ranges 30 to 50 percent cost of total cost construction. In addition to material economy, the correct use of material results in better structural strength, functional efficiency and aesthetic appearance.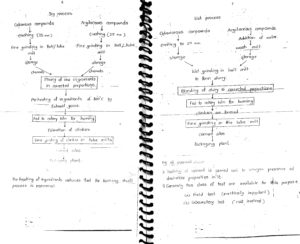 Classification of Rocks:
Building stones are obtained from rocks occurring in nature and classified in three ways.
1. Geological classification
2. Physical classification
3. Chemical classification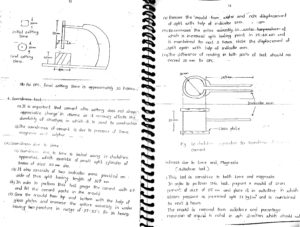 Geological Classification:
According to this classification, the rocks are of the following types.
a. Igneous rocks: Rocks that are formed by cooling of Magana (molten or pasty rocky material) are known as igneous rocks. Eg: Granite, Basalt and Dolerite etc.
b. Sedimentary rocks: these rocks are formed by the deposition of production of weathering on the pre-existing rocks. Examples: gravel, sandstone, limestone, gypsum, lignite etc.
c. Metamorphic rocks. These rocks are formed by the change in character of the pre-existing rocks. Igneous as well as sedimentary rocks are changed in character when they are
subject to great heat and pressure. Known as metamorphism. Examples: Quartzite, Schist, Slate, Marble and Gneisses.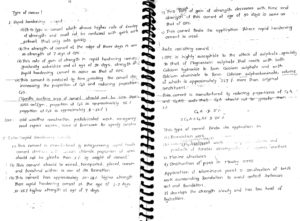 Physical Classification:
This classification based on general structure of rocks. According to this, the rocks are classified into three types
a. Stratified Rocks: These rocks posses planes of stratification or cleavage and such rocks can be easily split along these planes Ex: sedimentary rocks
b. An stratified rocks: The structure may be crystalline granular or compact granular. Examples: Igneous rocks and Sedimentary rocks affected by movements of the earth.
c. Foliated Rocks: These rocks have a tendency to split up in a definite direction only. Ex: Metamorphic rocks.
Chemical Classification:
According to this classification rocks are classified into three types.
a. Siliceous rocks: In these rocks, silica is predominates. The rocks are hard; durable and not easily effected by weathering agencies. Ex: Granite, Quartzite, etc.
b. Argillaceous Rocks: In these rocks, clay predominates. The rocks may be dense and compact or may be soft. Ex: slates, Laterites etc.
c. Calcareous rocks: In these rocks, calcium carbonate predominates. The durability to these rocks will depend upon the constituents present in surrounding atmosphere. Ex: Lime Stone,
marble etc.




PASSWORD :

CivilEnggForAll
OTHER USEFUL LINKS FROM CIVILENGGFORALL
CPM & PERT MADE EASY GATE HANDWRITTEN NOTES : CLICK HERE
RCC MADE EASY GATE HANDWRITTEN NOTES : CLICK HERE
STRUCTURAL ANALYSIS MADE EASY GATE HANDWRITTEN NOTES : CLICK HERE
STRENGTH OF MATERIALS MADE EASY GATE HANDWRITTEN NOTES : CLICK HERE
STRENGTH OF MATERIALS (PART-1) MADE EASY GATE HANDWRITTEN NOTES : CLICK HERE
STRENGTH OF MATERIALS (PART-2) MADE EASY GATE HANDWRITTEN NOTES : CLICK HERE
HYDRAULIC MACHINERY MADE EASY GATE HANDWRITTEN NOTES : CLICK HERE
SURVEYING (PART-1) MADE EASY GATE HANDWRITTEN NOTES : CLICK HERE
SURVEYING (PART-2) MADE EASY GATE HANDWRITTEN NOTES : CLICK HERE
FLUID MECHANICS (PART-1) MADE EASY GATE HANDWRITTEN NOTES : CLICK HERE
FLUID MECHANICS (PART-2) MADE EASY GATE HANDWRITTEN NOTES : CLICK HERE
ENVIRONMENTAL ENGINEERING (PART-1) MADE EASY GATE HANDWRITTEN NOTES : CLICK HERE
ENVIRONMENTAL ENGINEERING (PART-2) MADE EASY GATE HANDWRITTEN NOTES : CLICK HERE
GEOTECHNICAL ENGINEERING (PART-1) MADE EASY GATE HANDWRITTEN NOTES : CLICK HERE
GEOTECHNICAL ENGINEERING (PART-2) MADE EASY GATE HANDWRITTEN NOTES : CLICK HERE
RAILWAY ENGINEERING MADE EASY GATE HANDWRITTEN NOTES : CLICK HERE
HIGHWAY ENGINEERING MADE EASY GATE HANDWRITTEN NOTES : CLICK HERE