HYDRAULIC MACHINERY
MADE EASY GATE HANDWRITTEN CLASSROOM NOTES
FREE DOWNLOAD PDF
Hydraulic Machinery Made Easy GATE Handwritten Notes Download PDF for free along with Civil Engineering all subjects Made Easy Gate Handwritten Classroom Notes only at CivilEnggForAll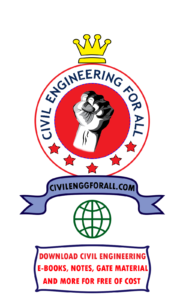 Hydraulic Machinery Made Easy GATE Handwritten Notes Download PDF
PLEASE NOTE : WE PROVIDE ONLY VERIFIED NOTES AND MATERIALS. ALL THE OTHER NOTES WHICH ARE AVAILABLE IN THE INTERNET WITH THE NAME MADE EASY CIVIL NOTES ARE FAKE AND ARE NORMAL CLASSROOM NOTES OF SOME COLLEGE. WE ALWAYS TRY TO BRING OUT QUALITY NOTES FOR FREE AND FOR THE SAKE OF STUDENTS WHO ARE REALLY WORKING HARD DAY AND NIGHT AIMING GOOD GATE/IES RANKS.

Essential Components of Hydro Electric Power Plant :
Storage Reservoir :
There are two types of storage reservoirs. First one is natural reservoir which are natural water bodies like lakes, rivers. Second one is Artificial Reservoid which are man-made like dams.
Dams : Dams are artificial reservoirs built in the direction of flow of river or flow of water in a river so that its kinetic energy should be converted into hydraulic energy.
Dams and its control works : It includes dams and different types of its control mechanics
Waterways and its control works like penstocks, canals, forebays, tunnels.
Turbine :
Components of Impulse Turbine and Reaction
1. Impulse Turbines
Nozzle
Runner
Casing (Lid)
Breaking Jets
2. Reaction Turbines
Guide Vanes
Runner
Casing
Draft tube
Tail Race Level :
These are the waterways to exit the water coming out from the turbines.These channels are properly designed so that the water can be easily exit from the turbines.
5. Power House : Power house consists of generator and power distribution system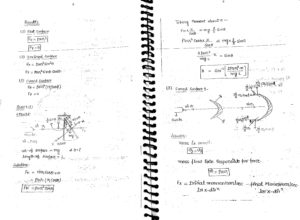 Types of Heads:
Gross Head : It is the head on which Hydro-electric power plant is working, so the efficiency of Hydro electric power plant can be calculated on the basis of gross head.
Gross Head = Head Race Level – Tail Race Level
Net Head : It is the head on which turbine is working,so it is used to calculate the efficiency of turbine.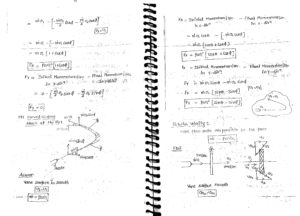 Impulse Turbine :
When a force of very high magnitude is applied for a very small time interval, then it is known as Impulse. The water is coming from the storage reservoir through penstock to the inlet of the nozzle. So the hydraulic energy of the water is mainly converted into kinetic energy. Now the water releases in the form of jet from the nozzle and striked on the vanes for a small duration. Since a very high force is exerted on the vanes by the jet of water for a very small time duration, these turbines are known as Impulse turbine.
PASSWORD :

CivilEnggForAll
DOWNLOAD FLUID MECHANICS :: PART-1 :: PART-2 ::
OTHER USEFUL LINKS FROM CIVILENGGFORALL
SURVEYING (PART-1) MADE EASY GATE HANDWRITTEN NOTES : CLICK HERE
SURVEYING (PART-2) MADE EASY GATE HANDWRITTEN NOTES : CLICK HERE
FLUID MECHANICS (PART-1) MADE EASY GATE HANDWRITTEN NOTES : CLICK HERE
FLUID MECHANICS (PART-2) MADE EASY GATE HANDWRITTEN NOTES : CLICK HERE
ENVIRONMENTAL ENGINEERING (PART-1) MADE EASY GATE HANDWRITTEN NOTES : CLICK HERE
ENVIRONMENTAL ENGINEERING (PART-2) MADE EASY GATE HANDWRITTEN NOTES : CLICK HERE
GEOTECHNICAL ENGINEERING (PART-1) MADE EASY GATE HANDWRITTEN NOTES : CLICK HERE
GEOTECHNICAL ENGINEERING (PART-2) MADE EASY GATE HANDWRITTEN NOTES : CLICK HERE
RAILWAY ENGINEERING MADE EASY GATE HANDWRITTEN NOTES : CLICK HERE
HIGHWAY ENGINEERING MADE EASY GATE HANDWRITTEN NOTES : CLICK HERE
SURVEYING AE & AEE HANDWRITTEN NOTES : CLICK HERE
GENERAL SCIENCE AE AEE HANDWRITTEN NOTES : CLICK HERE
STRUCTURAL ANALYSIS AE & AEE HANDWRITTEN NOTES : CLICK HERE
PERT AND CPM AE AEE HANDWRITTEN NOTES PDF : CLICK HERE
Geography AE AEE Ace Academy Handwritten Notes PDF : CLICK HERE TO DOWNLOAD
Indian Polity AE AEE Civil Engineering Handwritten Notes PDF : CLICK HERE TO DOWNLOAD
Economics AE AEE Civil Engineering Handwritten Notes PDF : CLICK HERE TO DOWNLOAD