HYDROLOGY AND IRRIGATION
PART-2
MADE EASY GATE HANDWRITTEN CLASSROOM NOTES
FREE DOWNLOAD PDF
Hydrology & Irrigation Made Easy GATE Handwritten Notes Part-2 PDF Free Download Made Easy Classroom Notes CivilEnggForAll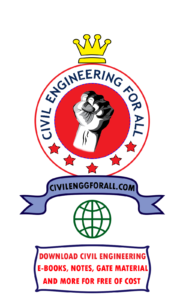 Hydrology & Irrigation Made Easy GATE Handwritten Notes Part-2 PDF
PLEASE NOTE : WE PROVIDE ONLY VERIFIED NOTES AND MATERIALS. ALL THE OTHER NOTES WHICH ARE AVAILABLE IN THE INTERNET WITH THE NAME MADE EASY CIVIL NOTES ARE FAKE AND ARE NORMAL CLASSROOM NOTES OF SOME COLLEGE. WE ALWAYS TRY TO BRING OUT QUALITY NOTES FOR FREE AND FOR THE SAKE OF STUDENTS WHO ARE REALLY WORKING HARD DAY AND NIGHT AIMING GOOD GATE/IES RANKS.
Water Requirements of Crops :
Functions of Water :
1. Water acts as a carrier. It is solvent for nutrient.
2. Water helps in the chemical action with water plant leading to their growth
3. It is essential for bacterial life required for plant growth.
4. It helps in washing and leaching of harmful salts.
5. It maintains favourable environment for growth of plant.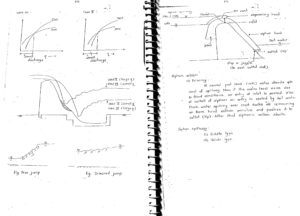 Duty of Water :
It is irrigation capacity of unit water discharge (1 cumec/m cube)
Delta :
It is total depth of water required by the crop for entire crop period per base period
Crop Period :
It is the time from sowing to harvesting of the crop (90 to 120 days or 365 days)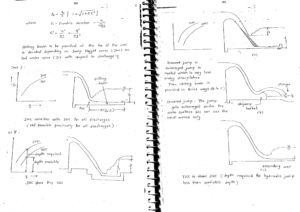 Base Period :
Base period is the time when first irrigation water is given to field for preparation of the land to the last watering before harvesting. Numerically crop period and base period are considered to be the same.
Crop season in India :
1. Kharif season (Summer) : Rice, maize, jawar, pulses and ground nut are grown in this season. Sowing is done during June and July and harvesting is done during October and November.
2. Rabi Seasong (Winter) : Wheat, Barley, Mustard, Potato and few other vegetables are grown during this season. Sowing is done during September October and harvesting is done during March April.
3. Summer Crop : Sowing is done during March April and harvesting is done during June July.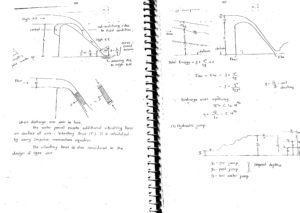 Crop ratio :
The ratio of Area irrigated during Rabi Season to that of in Kharif Season is called Crop ratio.
Gross Command Area (GCA) :
It is the total area lying between the drainage boundaries of a catchment which can be commanded or irrigated by a canal system.
PASSWORD :

CivilEnggForAll
OTHER USEFUL LINKS FROM CIVILENGGFORALL
SURVEYING (PART-1) MADE EASY GATE HANDWRITTEN NOTES : CLICK HERE
SURVEYING (PART-2) MADE EASY GATE HANDWRITTEN NOTES : CLICK HERE
FLUID MECHANICS (PART-1) MADE EASY GATE HANDWRITTEN NOTES : CLICK HERE
FLUID MECHANICS (PART-2) MADE EASY GATE HANDWRITTEN NOTES : CLICK HERE
ENVIRONMENTAL ENGINEERING (PART-1) MADE EASY GATE HANDWRITTEN NOTES : CLICK HERE
ENVIRONMENTAL ENGINEERING (PART-2) MADE EASY GATE HANDWRITTEN NOTES : CLICK HERE
GEOTECHNICAL ENGINEERING (PART-1) MADE EASY GATE HANDWRITTEN NOTES : CLICK HERE
GEOTECHNICAL ENGINEERING (PART-2) MADE EASY GATE HANDWRITTEN NOTES : CLICK HERE
RAILWAY ENGINEERING MADE EASY GATE HANDWRITTEN NOTES : CLICK HERE
HIGHWAY ENGINEERING MADE EASY GATE HANDWRITTEN NOTES : CLICK HERE
SURVEYING AE & AEE HANDWRITTEN NOTES : CLICK HERE
GENERAL SCIENCE AE AEE HANDWRITTEN NOTES : CLICK HERE
STRUCTURAL ANALYSIS AE & AEE HANDWRITTEN NOTES : CLICK HERE
PERT AND CPM AE AEE HANDWRITTEN NOTES PDF : CLICK HERE
Geography AE AEE Ace Academy Handwritten Notes PDF : CLICK HERE TO DOWNLOAD
Indian Polity AE AEE Civil Engineering Handwritten Notes PDF : CLICK HERE TO DOWNLOAD
Economics AE AEE Civil Engineering Handwritten Notes PDF : CLICK HERE TO DOWNLOAD