RCC
MADE EASY GATE HANDWRITTEN CLASSROOM NOTES
FREE DOWNLOAD PDF
RCC Made Easy GATE Handwritten Notes Free Download PDF exclusive at CivilEnggForAll.com. Also download Civil Engineering all subjects GATE Notes and Materials.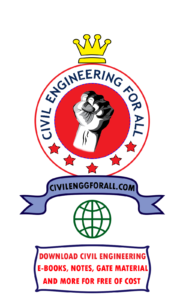 RCC Made Easy GATE Handwritten Notes Free Download PDF
PLEASE NOTE : WE PROVIDE ONLY VERIFIED NOTES AND MATERIALS. ALL THE OTHER NOTES WHICH ARE AVAILABLE IN THE INTERNET WITH THE NAME MADE EASY CIVIL NOTES ARE FAKE AND ARE NORMAL CLASSROOM NOTES OF SOME COLLEGE. WE ALWAYS TRY TO BRING OUT QUALITY NOTES FOR FREE AND FOR THE SAKE OF STUDENTS WHO ARE REALLY WORKING HARD DAY AND NIGHT AIMING GOOD GATE/IES RANKS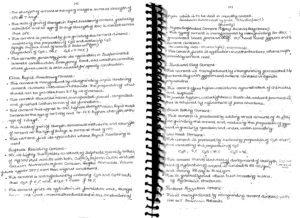 Concrete is arguably the most important building material, playing a part in all building structures. Its virtue is its versatility, i.e. its ability to be moulded to take up the shapes required for the various structural forms. It is also very durable and fire resistant when specification and construction procedures are correct.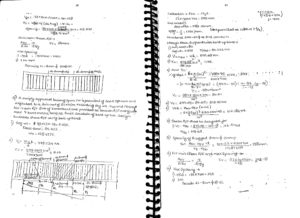 Concrete can be used for all standard buildings both single storey and multistorey and for containment and retaining structures and bridges. Some of the common building structures are as follows:
1. The single-storey portal supported on isolated footings;
2. The medium-rise framed structure which may be braced by shear walls or unbraced. The building may be supported on isolated footings, strip foundations or a raft;
3. The tall multistorey frame and core structure where the core and rigid frames together resist wind loads. The building is usually supported on a raft which in turn may bear directly on the ground or be carried on piles or caissons. These buildings usually include a basement.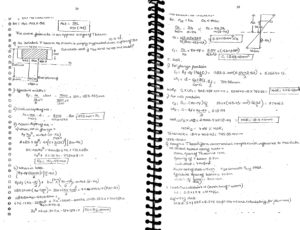 STRUCTURAL ELEMENTS AND FRAMES
The complete building structure can be broken down into the following elements:
Beams – horizontal members carrying lateral loads
Slab – horizontal plate elements carrying lateral loads
Columns – vertical members carrying primarily axial load but
generally – subjected to axial load and moment
Walls vertical – plate elements resisting vertical, lateral or in-plane loads
Bases and foundations – pads or strips supported directly on the ground that spread the loads from columns or walls so that they can be supported by the ground without excessive settlement. Alternatively the bases may be supported on piles.
STRUCTURAL DESIGN
The first function in design is the planning carried out by the architect to determine the arrangement and layout of the building to meet the client's requirements.
The structural engineer then determines the best structural system or forms to bring the architect's concept into being. Construction in different materials and with different arrangements and systems may require investigation to determine the most economical answer. Architect and engineer should work together at this conceptual design stage.
Once the building form and structural arrangement have been finalized the design problem consists of the following:
1. idealization of the structure into loadbearing frames and elements for analysis and design
2. estimation of loads
3. analysis to determine the maximum moments, thrusts and shears for design
4. design of sections and reinforcement arrangements for slabs, beams, columns and walls using the results from 3
5. production of arrangement and detail drawings and bar schedules
PASSWORD :

CivilEnggForAll
OTHER USEFUL LINKS FROM CIVILENGGFORALL
STRUCTURAL ANALYSIS MADE EASY GATE HANDWRITTEN NOTES : CLICK HERE
STRENGTH OF MATERIALS MADE EASY GATE HANDWRITTEN NOTES : CLICK HERE
STRENGTH OF MATERIALS (PART-1) MADE EASY GATE HANDWRITTEN NOTES : CLICK HERE
STRENGTH OF MATERIALS (PART-2) MADE EASY GATE HANDWRITTEN NOTES : CLICK HERE
HYDRAULIC MACHINERY MADE EASY GATE HANDWRITTEN NOTES : CLICK HERE
SURVEYING (PART-1) MADE EASY GATE HANDWRITTEN NOTES : CLICK HERE
SURVEYING (PART-2) MADE EASY GATE HANDWRITTEN NOTES : CLICK HERE
FLUID MECHANICS (PART-1) MADE EASY GATE HANDWRITTEN NOTES : CLICK HERE
FLUID MECHANICS (PART-2) MADE EASY GATE HANDWRITTEN NOTES : CLICK HERE
ENVIRONMENTAL ENGINEERING (PART-1) MADE EASY GATE HANDWRITTEN NOTES : CLICK HERE
ENVIRONMENTAL ENGINEERING (PART-2) MADE EASY GATE HANDWRITTEN NOTES : CLICK HERE
GEOTECHNICAL ENGINEERING (PART-1) MADE EASY GATE HANDWRITTEN NOTES : CLICK HERE
GEOTECHNICAL ENGINEERING (PART-2) MADE EASY GATE HANDWRITTEN NOTES : CLICK HERE
RAILWAY ENGINEERING MADE EASY GATE HANDWRITTEN NOTES : CLICK HERE
HIGHWAY ENGINEERING MADE EASY GATE HANDWRITTEN NOTES : CLICK HERE