ENVIRONMENTAL ENGINEERING
PART-1
MADE EASY GATE HANDWRITTEN CLASSROOM NOTES
FREE DOWNLOAD PDF
Environmental Engineering Made Easy GATE Handwritten Notes PDF Download for free at CivilEnggForAll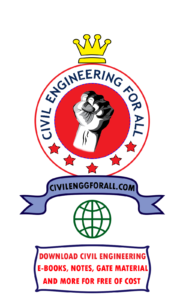 Environmental Engineering Made Easy GATE Handwritten Notes PDF
PLEASE NOTE : WE PROVIDE ONLY VERIFIED NOTES AND MATERIALS. ALL THE OTHER NOTES WHICH ARE AVAILABLE IN THE INTERNET WITH THE NAME MADE EASY CIVIL NOTES ARE FAKE AND ARE NORMAL CLASSROOM NOTES OF SOME COLLEGE. WE ALWAYS TRY TO BRING OUT QUALITY NOTES FOR FREE AND FOR THE SAKE OF STUDENTS WHO ARE REALLY WORKING HARD DAY AND NIGHT AIMING GOOD GATE/IES RANKS.
Raw Water Engineering :
Water which is naturally available in environment, on which we have not provided any treatment is Raw Water.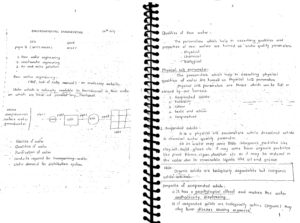 Qualities of Raw Water :
The parameters which help in asserting qualities and properties of raw water are termed as Water Quality Parameters. There are three types – Physical, Chemical and Biological.
Physical Water Quality Parameters : The parameters which help in asserting physical qualities of water are termed as Physical Water Quality Parameters. Physical Water Quality parameters are those which can be felt or sensed by our senses. Few of them are:
Suspended solids
Turbidity
Color
Taste and Odour
Temperature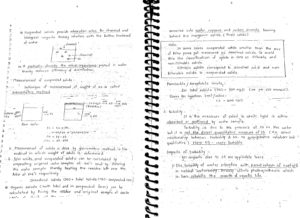 Suspended Solids :
It is a Physical Water Quality parameter while dissolved solids is Chemical Water Quality Parameter. Suspended solids in water may come from inorganic parameters like clay, silt, sand, glass, etc. It may come from organic particles like plant fibres, algae, plantum etc. or it may be in the water due to immisible liquids like oil and grease.
Organic Solids are biologically degradable but inorganic solids are not.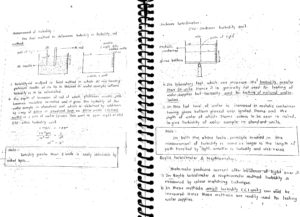 Turbidity :
It is the measure of extent to which light is either absorbed or scattered by water sample. Turbidity is due to the presence of Suspended solids in the water but it is not the direct quantitative measure of suspended solids. No direct relationship between turbidity and suspended solids and no quantitative relation but qualitative. The more suspended solids, the mode the turbidity.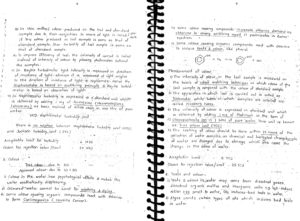 Color :
True color is due to dissolved solids and apparent color is due to dissolved and suspended solids.
Color in the water has psychological effects and makes the water aesthetically displeasing.
Colored water cannot be used for washing and dying
Some color causing organic compounds react with chlorine to form Carcinogenics (Causing cancer)
Some color causing compounds increases chloring demand as chloring is strong oxidising agent and it participates in Redox reactions.
Some color causing organic compounds reacts with Chloring to induce taste and odour like phenol.
PASSWORD :

CivilEnggForAll
OTHER USEFUL LINKS FROM CIVILENGGFORALL
GEOTECHNICAL ENGINEERING (PART-1) MADE EASY GATE HANDWRITTEN NOTES : CLICK HERE
GEOTECHNICAL ENGINEERING (PART-2) MADE EASY GATE HANDWRITTEN NOTES : CLICK HERE
RAILWAY ENGINEERING MADE EASY GATE HANDWRITTEN NOTES : CLICK HERE
HIGHWAY ENGINEERING MADE EASY GATE HANDWRITTEN NOTES : CLICK HERE
SURVEYING AE & AEE HANDWRITTEN NOTES : CLICK HERE
GENERAL SCIENCE AE AEE HANDWRITTEN NOTES : CLICK HERE
STRUCTURAL ANALYSIS AE & AEE HANDWRITTEN NOTES : CLICK HERE
PERT AND CPM AE AEE HANDWRITTEN NOTES PDF : CLICK HERE
Geography AE AEE Ace Academy Handwritten Notes PDF : CLICK HERE TO DOWNLOAD
Indian Polity AE AEE Civil Engineering Handwritten Notes PDF : CLICK HERE TO DOWNLOAD
Economics AE AEE Civil Engineering Handwritten Notes PDF : CLICK HERE TO DOWNLOAD