ENVIRONMENTAL ENGINEERING
GATE IES PSU's – STUDY MATERIAL
ACE ENGINEERING ACADEMY FREE DOWNLOAD PDF

ABOUT THE BOOK
SUBJECT : ENVIRONMENTAL ENGINEERING – THEORY WITH WORKED OUT EXAMPLES SELF AND CLASSROOM PRACTICE QUESTIONS
AUTHOR : SUBJECT EXPERTS OF ACE ENGINEERING ACADEMY – HYDERABAD
PUBLISHERS : ACE ENGINEERING PUBLISHERS
IDEAL FOR : GATE AND PSU's – CIVIL ENGINEERING STREAM
Environmental Engineering – Brief Book Introduction 
Pure Water: It is a chemical compound(H20). Potable Water: Water which is fit for drinking. Palatable Water: Water which is aesthetically looking good. Wholesome Water: Chemically may not be pure but doesn't contain anything harmful to human beings. Polluted Water: It contains undesirable substances rendering it unfit for drinking and domestic use. Contaminated Water It contains pathogenic bacteria and unfit for drinking Mineral water: It contains useful minerals viz. Calcium, Magnesium and Iron in required proportion.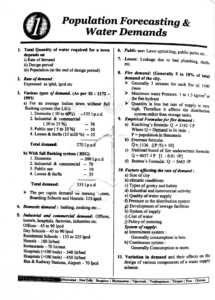 CHARACTERISTICS OR WATER- PHYSICAL CHARACTERISTICS
Turbidity: It is caused by suspended materials such as clay, silt or some other finally divided organic and inorganic matter. Turbidity is also due to presence of bacteria, algae, protozoa, fungi. Expressed in ppm(or mg/l) Standard unit is that which is produced by 1 mg. of finally divided silica(Fullers earth) l litre of distilled water. Measured on"Silica Scale Permissible limit for potable water: 5 to 10 ppm Measured by Turbidity meters a) Jackson Turbid Meter Used to measure lab b) Bayles Turbid meter precisely record even low turbidity values of the order of to 2 ppin.) BTU c) Nephelometer commonly used for turbidity of range of 0 to 1 ppm.(NTU& FTU-Formazan mere is standard reference suspension.
Turbidity is the measure of resistance to the passage of light through water. Colour It is Caused by dissolved organic matters from decaying vegetation or some inorganic coloured soils, growth of algae, metallic ions (Fe and MN). Measured by comparing the colour of water sample with other standard glass tubes Nesslar tubes) Measured by Platinum Cobalt Method. nic (Measured on Platinum Cobalt Scale.) Permissible limit: 5 to 20 ppm. Measured by Tintometer. is. 3. Taste& Odour Due to dissolved organic matter or inorganic salts, dissolved gases etc. e Threshold number is the standard unit for measuring. Taste is expressed as FTN Flavour Threshold Number) Odour is expressed as TON died (Threshold Odour Number)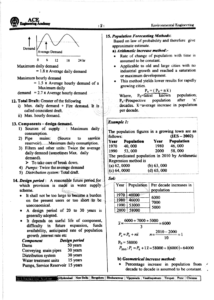 Osmoscope : The osmoscope is graduated with po values from 0 to 5 po value of 0 indicates: "no perceptible odour po value of 5 indicates"extremely strong odour nice for edible ties in water m. Suspended Impurities They cause turbidity The concentration of suspended impurities is by measured by turbidity. e.g. silt, clay, The bacteria, fungi, algae. 2. Colloidal impurities: These are finely divided l sol dispersion of solid particles, not visible to the naked eye. These impurities if associated with organic matter having bacteria becomes the chief source of epidemic. 3. Dissolved impurities in includes organic compounds, inorganic salts and gases. The following are various dissolved impurities and their effects. (a) Salts Ca MgCI2, co, HCO, the 2, cause hardness and alkalinity in water. (b) Metals: iron causes red colour, Manganese causes brown colour(c) Lead and arsenic cause poisoning(d) Gases oxygen causes corrosion of metals chlorine and ammonia cause bad taste and odour, CO2 and Hydrogen sulphide cause acidity in water




After Solids Methods of purification: a) Screening Plain sedimentation 3) Sedimentation aided with coagulation Fo 4) Filtration 5) Disinfection 6) Aeration 7) Softening 8) Misc. treatment such as Fluoridation, Recarbonatiu, Liming, desalination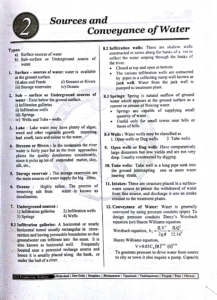 Screening: To remove large floating particles such as debris, trees, animals, tranches, bushes etc., with the help of screens. 2) Plain sedimentation: To remove suspended A seen coarser particles which tend to settle down name when attended storage or flow velocity 2.65 surface efficient I) Types of Sedimentation tanks a) Intermittent tank: also called quiescent tyre) Water is completely brought to rest Under runs intermittently Continuous Tank: Flow sit of water is reduced hay providing sufficient length of travel Designed such that the time taken by the water particle to travel from one end to another end is kept slightly more than the time required for settling of a suspended particle in water. iii) Desi shares: – Rectangular, square, circular sedimentation. Aided with coagulation to remove very fine suspended particles and colloidal particles Certain chemicals called "Coagulants" are mixed with water which form a gelatinous precipitate called "floc' which attracts the fine suspended particles. Commonly used coagulants 1) Alum Al(soi) 3. 18Hro (Aluminium Sulphate). Also called filter alum 2) Copper as (Ferrous Sulphate lime) 3) Chlorinated Coppers (Ferric Sulphate) 4) sodium sulphate Iron salts are used more frequently for treating sewage and alum is for treating water Detention time 2 to 4 hours overflow rate 1000 to 1250 lit/hr/m of plan area.
Floc Chamber: After mixing alum to the water in the mixing basin, it is gently stirred by paddles in the floc chamber to build up the floc. Detention time 15 to 40 min. Depth of floc chamber is half the depth of settling chamber. Flocculation slow mixing technique which promotes agglomeration of particles Coagulation Mixing of coagulants Flocculation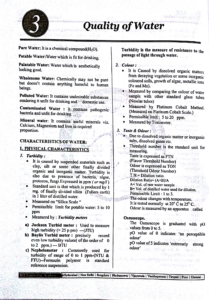 Disinfection It is the process of killing pathogenic bacteria. Methods Boiling of water Most effective method of disinfection of water cannot be used for huge quantities of public water supplies cannot take care of the future possible contaminations. used only for Domestic purposes in emergencies ii) Treatment with excess limes e Effectively kills the bacteria, but cannot safe guard the future pollution. e Enough lime is added to water to raise its pH value to 9.5 or more, thereby most of the bacteria will be kills. Carbonation is necessary. The process of removal of excess lime before it is supplied to public is known as Carbonation iii) Lone Ozone is a more powerful disinfectant than chlorine on one is costlier than chlorine Does not provide residual protection against recontamination. Cannot be stored. Used for disinfection of water on a small scale such as for swimming pool waters
DISCLAIMER : THIS WEBSITE IS NOT THE ORIGINAL PUBLISHER OF THIS BOOK ON NET. THIS E-BOOK HAS BEEN COLLECTED FROM OTHER SITES ON INTERNET. ALL THE RIGHTS ON THIS BOOK BELONGS TO ACE ENGINEERING ACADEMY.