IES MASTER GATE MATERIAL
IRRIGATION ENGINEERING
GATE – PSU – IES – GOVT EXAMS – STUDY MATERIAL
FREE DOWNLOAD PDF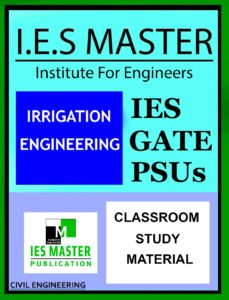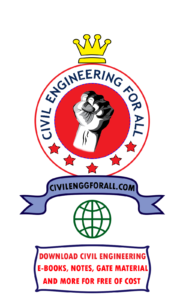 CONTENTS
IRRIGATION AND METHODS OF IRRIGATION

SOIL MOISTURE AND PLANT RELATIONSHIPS

WATER REQUIREMENTS OF CROPS AND CANAL IRRIGATION

WATER LOGGING AND RECLAMATION OF SALINE SOILS

CANAL DESIGN

CANAL REGULATION WORK

CANAL HEAD WORKS AND SEEPAGE THEORY

RIVER ENGINEERING

CROSS DRAINAGE WORKS

DAMS AND RESERVOIRS

SPILLWAYS, ENERGY DISSIPATORS AND SPILLWAY GATES
INTRODUCTION TO IRRIGATION ENGINEERING
Irrigation & Methods of Irrigation :
GENERAL UNDERSTANDING :
Plants require water and air for their survival.  Different types of plants require different quantities of water,  and at different times,  till they grow up completely.

Water is normally supplied to these plants by nature through direct rain or through the flood waters of rivers.

The supply of water nature does not match the requirement of crops.

Thus to control the nature,  man discovered various methods by which the water can be stored during the period of excess rainfall and to use that stored water during periods of less rainfall or no rainfall.

The art of the science by which it is accomplished,  is generally,  termed as irrigation.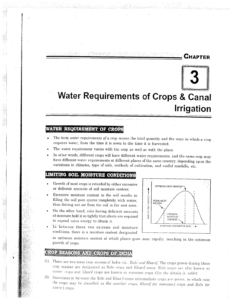 The following are the main concerns on irrigation:
How to apply i.e.,  what should be the method of irrigation:  Border flooding method,  furrow irrigation method,  sprinkler irrigation method,  drip irrigation method etc.

How much to apply i.e.,  how much moisture the soil can hold in its pores(moisture holding capacity of the soil)

When to apply i.e.,  when has the soil moisture level depleted to 50 to 60%  of moisture holding capacity,  and when is the time to irrigate.  In other words,  what should be the frequency of irrigation.

DEFINITION OF IRRIGATION : Irrigation may be defined as the science of artificial application of water to the land,  in accordance with the crop requirements throughout the crop period for full fledged nourishment of the crops.
ADVANTAGES &  DISADVANTAGES OF IRRIGATION 
Advantages of irrigation :
Direct advantages 
Increase in food production : Increase in crop yield due to irrigation leads to increase in food production,  thus developing people as well​ as society

Protection against drought:  The provision of adequate irrigation facilities in any region ensures protection against failure crops from famine or droughts

Revenue generation : When regular supply of water is assured for irrigation the cultivators can grow certain superior or high priced crops like cash crops in place of inferior or low priced crops.  Thus revenue is generated.

Mixed cropping:  Means sowing of two or more crops together in the same field.  This practice is followed so that if weather conditions are not favourable for one crop it may be suitable for other crop.  But if irrigation facilities are made available,  the need of mixed cropping is eliminated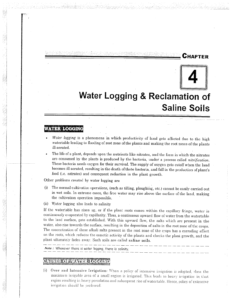 Indirect advantages:
Power Generation : Major river valleys projects are usually planned to provide hydroelectric power together with irrigation.  However relatively small quantity of hydroelectric power may also be generated at a small cost on projects which are primarily planned for irrigation.

Transportation: Most of the irrigation canals are provided with unsurfaced roads primarily for purposes of inspection and maintenance.  These roads provide a good pathway to the local people.  The network of irrigation canals can be used as the most economical means of transportation of goods as well as human beings

Ground water table : In areas where irrigation facilities are provided,  due to constant percolation a portion of water flowing in the canals and also that is supplied to the field,  the ground water storage is increased and consequently ground water table is raised.

Employment: During the constructions of irrigation works,  employment is provided

Disadvantages of Irrigation : Abundant supply of irrigation water tempts the cultivators to use more water than required.

Excess water supplied to the field would percolate into the soil.  Hence,  due to constant percolation ground water table would be raised and will lead to water logging.

The ground water can get polluted due to seepage of the nitrates into the ground water(applied to the soil as fertilizers)
TYPES OF IRRIGATION
Surface irrigation

Subsurface irrigation
Surface irrigation : 
Surface irrigation is defined as the group of water application techniques where water is applied and distributed over the soil surface either by gravity or by pumping.

More than 75%  of irrigated lands in India is supplied water by surface irrigation methods.

This method is best suited to soils with iow to moderate infiltration capacities and to lands with relatively uniform terrain(slopes less than 3%)

Surface irrigation can be further classified into Flow irrigation and Lift irrigation.

When the water is available at a higher level,  and it is supplied to lower level,  by the mere action of gravity,  then it is called Flow Irrigation.

If the water is lifted up by some mechanical or manual means,  such as by pumps,  etc.  and then supplied for irrigation,  then it is called Lift Irrigation.

Use of wells and tubewells for supplying irrigation water fall under this category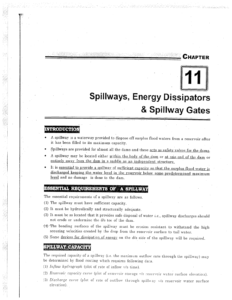 Flow irrigation can be further sub-divided into (a)  Perennial irrigation (b)  Flood irrigation
Perennial Irrigation
In perennial system of irrigation,  constant and continuous water supply is assured to the crops in accordance with the requirements of the crop,  throughout the crop period.

In this system of irrigation,  water is supplied through canal distribution system taking-off from above a weir or a reservoir

When irrigation is done by diverting the river runoff into the main canal by constructing a diversion weir or a barrage across the river,  then it is called as direct irrigation.

But​ if a dam is constructed across a river to store water during monsoons,  so as to supply water in the off-taking channel during periods of low flow,  then it is termed as storage irrigation.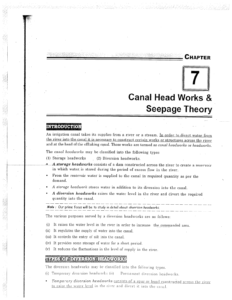 Flood Irrigation
In this method of irrigation,  soil is kept submerged and thoroughly flooded with water,  so as to cause thorough saturation of the land.

It is usually practised in delta regions where the river water level during flood is sufficiently high to supply water to the land by flow,  or partly by flow and partly by lift

This system of irrigation is also called uncontrolled irrigation or inundation irrigation
Sub-surface Irrigation: 
In this type of irrigation water does not actually wet the soil surface rather it flows underground and nourishes the plant roots by capillarity.

It may be divided into the following two types – Natural sub-irrigation ,Artificial sub-irrigation.
Natural sub irrigation : 
Leakage water from channels,  goes underground and during passage through the sub-soil,  it may irrigate crops,  sown on lower lands,  by capillarity.  Sometimes,  leakage causes the water-  table to rise up,  which helps in irrigation of crops by capillarity.  without any additional

When underground irrigation is achieved,  simply by natural processes extra efforts,  it is called natural sub-irrigation.
Artificial sub irrigation 
When a system of open jointed drains is artificially laid below the soil,  go as to supply water pillarity,  then it is known as artificial sub-irrigation.  to the crops by It is a very costly process and hence,  adopted on a very small scale It may be recommended only in some special cases with favourable soil conditions and for cash crops of very high return.
ADVANTAGES OF LIFT IRRIGATION OVER FLOW IRRIGATION
Lift irrigation can be installed directly on the farm mostly it is installed centrally)  at any time with a small investment.

Thus the length of the field channels(water courses)  is less and can be lined with an economic lining material locally available

Water can be applied to the required depth when it is time to irrigate

There are no pollution and evaporation losses(due to pumping from nearby tube wells,  wells)

Subsoil water table can be controlled and prevents water logging,  soil salinity and alkalinity

High irrigation efficiency and improved methods of irrigation like perforated pine sprinkler and drip can be practised

Cash crops can he grown which pay back for the high initial investment made.

Irrigation is possible even during a year of drought.

Isolated patches of land can be easily irrigated where the canal water cannot reach

High yields can be obtained with good water management and fertilizer application
DISCLAIMER : THIS WEBSITE IS NOT THE ORIGINAL PUBLISHER OF THIS BOOK ON NET. THIS E-BOOK HAS BEEN COLLECTED FROM OTHER SITES ON INTERNET. ALL THE RIGHTS ON THIS BOOK BELONGS TO IES MASTER ACADEMY.