ENVIRONMENTAL ENGINEERING
PART-2
MADE EASY GATE HANDWRITTEN CLASSROOM NOTES
FREE DOWNLOAD PDF
Environmental Engineering Made Easy GATE Handwritten Notes Part-2 PDF Download for free at CivilEnggForAll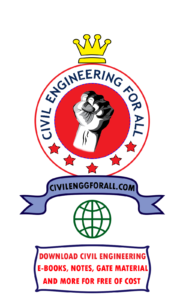 Environmental Engineering Made Easy GATE Handwritten Notes Part-2
PLEASE NOTE : WE PROVIDE ONLY VERIFIED NOTES AND MATERIALS. ALL THE OTHER NOTES WHICH ARE AVAILABLE IN THE INTERNET WITH THE NAME MADE EASY CIVIL NOTES ARE FAKE AND ARE NORMAL CLASSROOM NOTES OF SOME COLLEGE. WE ALWAYS TRY TO BRING OUT QUALITY NOTES FOR FREE AND FOR THE SAKE OF STUDENTS WHO ARE REALLY WORKING HARD DAY AND NIGHT AIMING GOOD GATE/IES RANKS.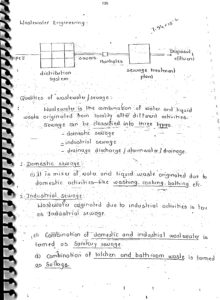 Waster Water Engineering :
Qualities of Wastewater/Sewage :
Wastewater is the combination of water and liquid waste originated from locality after different activities.
Sewage can be classified into three types.
Domestic Sewage
Industrial Sewage
Drainage Discharge/Stormwater/Drainage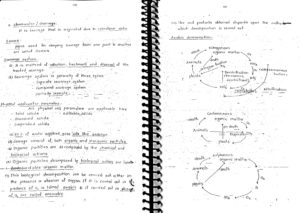 Domestic Sewage :
It is mixture of water and liquid wasye originated due to domestic activites like washing, cooking, bathing etc.
Industrial Sewage : Wastewater originated due to industrial activites is termed as Industrial Sewage.
Combination of domestic and industrial wastewater is termed as Sanitary sewage,
Combination of kitchen and bathroom waste is termed as Sullage.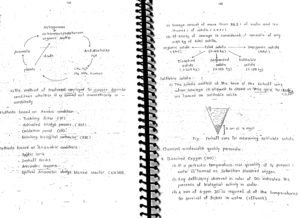 Storm water/Drainage :
It is sewage that is originated due to rainstorm water.
Sewers : Pipes used for carrying sewage from one point to another point are called Sewers.
Sewerage System :
It is method of collection, treatment and disposal of the treated sewage.
Sewerage system is generally of three types.
Seperate Sewerage System
Combined Sewerage System
Partially Seperated System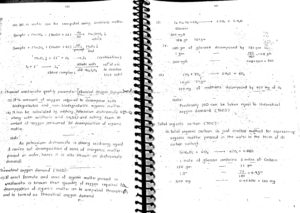 Physical Wastewater parameters :
All physical Waster Quality parameters are applicable here also.
Total Solids
Dissolved Solids
Suspended Solids
Settleable Solids
80% of water supplied goes into the sewage
Sewage consist of both organic and inorganic particles.
Organic particles are decomposed by the chemical and biological actions
Organic particles decomposed by biological action are termed Biodegradable organic matter
This biological decomposition can be carried out either in the presence or absence of oxygen. It it is carried out in the presence of Oxygen, it is termed aerobic. It it is carried out in the absence of Oxygen it is called Anaerobic.
The end products obtained depends upon the method on which the decomposition is carried out.
 PASSWORD :

CivilEnggForAll
OTHER USEFUL LINKS FROM CIVILENGGFORALL
ENVIRONMENTAL ENGINEERING (PART-1) MADE EASY GATE HANDWRITTEN NOTES : CLICK HERE
GEOTECHNICAL ENGINEERING (PART-1) MADE EASY GATE HANDWRITTEN NOTES : CLICK HERE
GEOTECHNICAL ENGINEERING (PART-2) MADE EASY GATE HANDWRITTEN NOTES : CLICK HERE
RAILWAY ENGINEERING MADE EASY GATE HANDWRITTEN NOTES : CLICK HERE
HIGHWAY ENGINEERING MADE EASY GATE HANDWRITTEN NOTES : CLICK HERE
SURVEYING AE & AEE HANDWRITTEN NOTES : CLICK HERE
GENERAL SCIENCE AE AEE HANDWRITTEN NOTES : CLICK HERE
STRUCTURAL ANALYSIS AE & AEE HANDWRITTEN NOTES : CLICK HERE
PERT AND CPM AE AEE HANDWRITTEN NOTES PDF : CLICK HERE
Geography AE AEE Ace Academy Handwritten Notes PDF : CLICK HERE TO DOWNLOAD
Indian Polity AE AEE Civil Engineering Handwritten Notes PDF : CLICK HERE TO DOWNLOAD
Economics AE AEE Civil Engineering Handwritten Notes PDF : CLICK HERE TO DOWNLOAD