STEEL STRUCTURES
PART-1
MADE EASY GATE HANDWRITTEN CLASSROOM NOTES
FREE DOWNLOAD PDF
Steel Structures Made Easy GATE Handwritten Notes Free Download PDF of Civil Engineering all other subjects only at CivilEnggForAll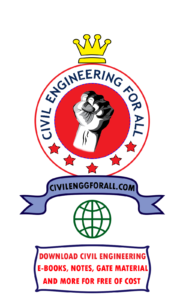 Steel Structures Made Easy GATE Handwritten Notes Free Download PDF
PLEASE NOTE : WE PROVIDE ONLY VERIFIED NOTES AND MATERIALS. ALL THE OTHER NOTES WHICH ARE AVAILABLE IN THE INTERNET WITH THE NAME MADE EASY CIVIL NOTES ARE FAKE AND ARE NORMAL CLASSROOM NOTES OF SOME COLLEGE. WE ALWAYS TRY TO BRING OUT QUALITY NOTES FOR FREE AND FOR THE SAKE OF STUDENTS WHO ARE REALLY WORKING HARD DAY AND NIGHT AIMING GOOD GATE/IES RANKS.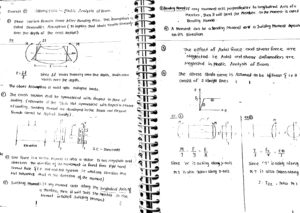 Proportionality Limit :
Limit up to which stresses proportions to strain.
Elastic Limit :
Limit up to which the material comes back to its original position after removal of the loads. Proportionality and Elastic limits are independent.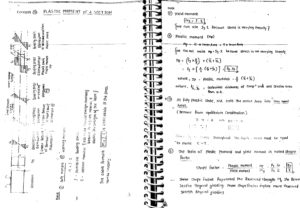 Yielding :
It is the increase in strain without increase in the stress.
Strain Hardening :
After the material has yielded, it becomes stronger and harder. This process is called strain hardening
Necking :
It is the local reduction in the area of cross section. It takes place after ultimate stress point is crossed.
In plastic analysis, the effect of strain hardening is neglected because hight deformation are not acceptable.
Steel is by far the most useful material for building structures with strength of approximately ten times that of concrete, steel is the ideal material for modern construction.
Due to its large strength to weight ratio, steel structures tend to be more economical than concrete structures for tall buildings and large span buildings and bridges.
Steel structures can be constructed very fast and this enables the structure to be used early thereby leading to overall economy.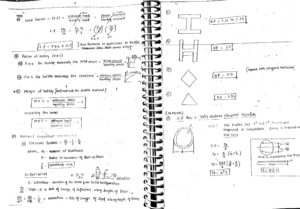 Steel structures are ductile and robust and can withstand severe loadings such as earthquakes. Steel structures can be easily repaired and retrofitted to carry higher loads.
Steel is also a very eco-friendly material and steel structures can be easily dismantled and sold as scrap. Thus the lifecycle cost of steel structures, which includes the cost of construction, maintenance, repair and dismantling, can be less than that for concrete structures. Since steel is produced in the factory under better quality control, steel structures have higher reliability and safety.




PASSWORD :

CivilEnggForAll
OTHER USEFUL LINKS FROM CIVILENGGFORALL
HYDRAULIC MACHINERY MADE EASY GATE HANDWRITTEN NOTES : CLICK HERE
SURVEYING (PART-1) MADE EASY GATE HANDWRITTEN NOTES : CLICK HERE
SURVEYING (PART-2) MADE EASY GATE HANDWRITTEN NOTES : CLICK HERE
FLUID MECHANICS (PART-1) MADE EASY GATE HANDWRITTEN NOTES : CLICK HERE
FLUID MECHANICS (PART-2) MADE EASY GATE HANDWRITTEN NOTES : CLICK HERE
ENVIRONMENTAL ENGINEERING (PART-1) MADE EASY GATE HANDWRITTEN NOTES : CLICK HERE
ENVIRONMENTAL ENGINEERING (PART-2) MADE EASY GATE HANDWRITTEN NOTES : CLICK HERE
GEOTECHNICAL ENGINEERING (PART-1) MADE EASY GATE HANDWRITTEN NOTES : CLICK HERE
GEOTECHNICAL ENGINEERING (PART-2) MADE EASY GATE HANDWRITTEN NOTES : CLICK HERE
RAILWAY ENGINEERING MADE EASY GATE HANDWRITTEN NOTES : CLICK HERE
HIGHWAY ENGINEERING MADE EASY GATE HANDWRITTEN NOTES : CLICK HERE
SURVEYING AE & AEE HANDWRITTEN NOTES : CLICK HERE
GENERAL SCIENCE AE AEE HANDWRITTEN NOTES : CLICK HERE
STRUCTURAL ANALYSIS AE & AEE HANDWRITTEN NOTES : CLICK HERE
PERT AND CPM AE AEE HANDWRITTEN NOTES PDF : CLICK HERE
Geography AE AEE Ace Academy Handwritten Notes PDF : CLICK HERE TO DOWNLOAD
Indian Polity AE AEE Civil Engineering Handwritten Notes PDF : CLICK HERE TO DOWNLOAD
Economics AE AEE Civil Engineering Handwritten Notes PDF : CLICK HERE TO DOWNLOAD