OPEN CHANNEL FLOW
MADE EASY GATE HANDWRITTEN CLASSROOM NOTES
FREE DOWNLOAD PDF
Open Channel Flow Made Easy GATE Handwritten Notes PDF Download for free at CivilEnggForAll
PLEASE NOTE : WE PROVIDE ONLY VERIFIED NOTES AND MATERIALS. ALL THE OTHER NOTES WHICH ARE AVAILABLE IN THE INTERNET WITH THE NAME MADE EASY CIVIL NOTES ARE FAKE AND ARE NORMAL CLASSROOM NOTES OF SOME COLLEGE. WE ALWAYS TRY TO BRING OUT QUALITY NOTES FOR FREE AND FOR THE SAKE OF STUDENTS WHO ARE REALLY WORKING HARD DAY AND NIGHT AIMING GOOD GATE/IES RANKS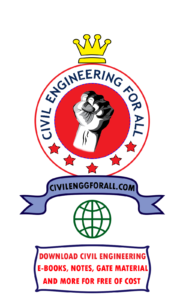 Open Channel Flow Made Easy GATE Handwritten Notes PDF Download
Liquids are transported from one location to another using natural or constructed conveyance structures. The cross section of these structures may be open or closed at the top. The structures with closed tops are referred to as closed conduits and those with the top open are called open channels. For example, tunnels and pipes are closed conduits whereas rivers, streams, estuaries etc. are open channels. The flow in an open channel or in a closed conduit having a free surface is referred to as free-surface flow or open-channel flow.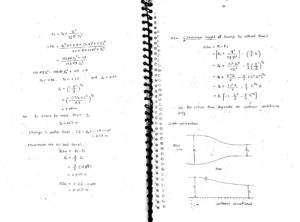 The flow is called laminar flow if the liquid particles appear to move in definite smooth paths and the flow appears to be as a movement of thin layers on top of each other. In turbulent flow, the liquid particles move in irregular paths which are not fixed with respect to either time or space.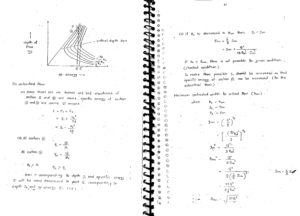 The relative magnitude of viscous and inertial forces determines whether the flow is laminar or turbulent: The flow is laminar if the viscous forces dominate, and the flow is turbulent if the inertial forces dominate. The ratio of viscous and inertial forces is defined as the Reynolds number.
A flow is called critical if the flow velocity is equal to the velocity of a gravity wave having small amplitude. A gravity wave may be produced by a change in the flow depth. The flow is called subcritical flow, if the flow velocity is less than the critical velocity, and the flow is called supercritical flow if the flow velocity is greater than the critical velocity. The Froude number, Fr, is equal to the ratio of inertial and gravitational forces and, for a rectangular channel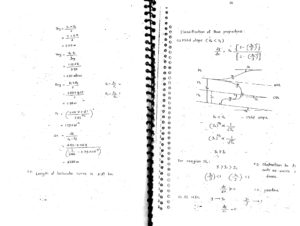 Channels may be natural or artificial. Various names have been used for the artificial channels: A long channel having mild slope usually excavated in the ground is called a canal. A channel supported above ground and built of wood, metal, or concrete is called a flume. A chute is a channel having very steep bottom slope and almost vertical sides. A tunnel is a channel excavated through a hill or a mountain. A short channel flowing partly full is referred to as a culvert.
PASSWORD :

CivilEnggForAll
OTHER USEFUL LINKS FROM CIVILENGGFORALL
ENGINEERING MECHANICS MADE EASY GATE HANDWRITTEN NOTES : CLICK HERE
BUILDING MATERIALS MADE EASY GATE HANDWRITTEN NOTES : CLICK HERE
CPM & PERT MADE EASY GATE HANDWRITTEN NOTES : CLICK HERE
RCC MADE EASY GATE HANDWRITTEN NOTES : CLICK HERE
STRUCTURAL ANALYSIS MADE EASY GATE HANDWRITTEN NOTES : CLICK HERE
STRENGTH OF MATERIALS MADE EASY GATE HANDWRITTEN NOTES : CLICK HERE
STRENGTH OF MATERIALS (PART-1) MADE EASY GATE HANDWRITTEN NOTES : CLICK HERE
STRENGTH OF MATERIALS (PART-2) MADE EASY GATE HANDWRITTEN NOTES : CLICK HERE
HYDRAULIC MACHINERY MADE EASY GATE HANDWRITTEN NOTES : CLICK HERE
SURVEYING (PART-1) MADE EASY GATE HANDWRITTEN NOTES : CLICK HERE
SURVEYING (PART-2) MADE EASY GATE HANDWRITTEN NOTES : CLICK HERE