REINFORCED CEMENT CONCRETE (RCC)
GATE AND PSU's STUDY MATERIAL
ACE ENGINEERING ACADEMY
FREE DOWNLOAD PDF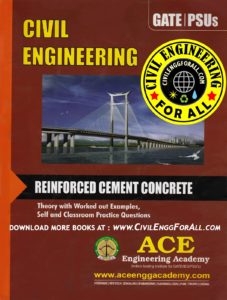 ABOUT THE BOOK
SUBJECT : REINFORCED CEMENT CONCRETE (RCC) – THEORY WITH WORKED OUT EXAMPLES SELF AND CLASSROOM PRACTICE QUESTIONS
AUTHOR : SUBJECT EXPERTS OF ACE ENGINEERING ACADEMY – HYDERABAD
PUBLISHERS : ACE ENGINEERING PUBLISHERS
IDEAL FOR : GATE AND PSU's – CIVIL ENGINEERING STREAM
DOWNLOAD LINKS :



CONTENTS
Materials, workmanship, inspection and testing
Limit state design method – fundamentals
Limit state – Singly reinforced sections
Doubly reinforced beams – LSM
Limit state design – Flanged beams
Limit state of collapse – Shear
Bond
Limit state of collapse – torsion
Slabs
Limit state of collapse – compression
Footings
Limit state of serviceability
PRESTRESSED CONCRETE
Fundamentals of prestressed concrete
Analysis of pre stressed concrete members
Losses in prestressed concrete
CONCRETE TECHNOLOGY
Cement
Aggregates
Concrete
Cement mortar
Grades of Cements: Grades of Cenent is based on crushing strength of a cement mortar cube of size 70.71 mm surface area of 50 cm cured and tested at 28 days. They basically differ in terms of fineness of cement which in turn is expressed as specific surface area
Specific surface is the surface area of the particles in l gram of cement (unit: cm /gram Chemically all the three grades of cement Viz grade 33, grade 43, grade 53 are almost Similar. (IS 516-1959)




Their characteristics are listed below
GR 33 – specific surface area is i minimum 2,250 cm gram (IS: 269)
GR 43 specific surface area is minimum 3400 cm gram (IS 8112-1989)
GR 53 specific surface area is much greater d) Ad than 3400 cm gram (IS:12269-1987)
Grade 53 cements have more shrinkage out compared to other grades, but having higher
early strength. Therefore preferred for high strength concretes, prestressed concretes etc.
Aggregates: As per IS 383 1970 Generally Hard Blasted granite chips (HBG)
(i)Coarse aggregate: Nominal maximum size of coarse aggregate for RCC is 20 mm
In no case greater than one-fourth of minimum thickness of member
In heavily reinforced members 5 mm less than the minimum clear distance between the main bars or 5 mm less than the minimum cover to the reinforcement which ever is smaller
(ii) Fine aggregate: Generally medium sand, zone sand as per is 456
Reinforcement: i) Mild steel and medium tensile steel bars ii) Hot rolled deformed bars IS 1139 iii) Cold twisted bars is 1786 iv) Hard drawn steel wire fabric IS 1566
Note: All reinforcement shall be free from loose mill
scale, loose mill ,rust, etc. Modulus of elasticity of steel is 2x 10 N/mm, irrespective of grade of steel since the linear part of the stress-strain curve of almost all the Steel is the same.
Conceptually the increased strength of deformed bars viz. tor steel compared to mild plain bars resulting in more dense crystalline Structure
The increase of carbon content increases the strength of steel but ductility decreases
Admixtures: These are the chemical compounds used for improving the characteristics of concrete such as workability, setting etc. with out affecting the strength of the concrete
Types: Retarders delays the setting of cement particularly in hot climates for certain minimum time. Gypsum is one such compounds. Accelerators accelerates the setting process particularly in cold climates. Ex:- Cacl2 Plasticisers, these are air entraining agents improve the workability of concrete in case of rich mixes and congested reinforcement.
DOWNLOAD LINK : REINFORCED CEMENT CONCRETE (RCC) GATE AND PSU's STUDY MATERIAL – ACE ENGINEERING ACADEMY – FREE DOWNLOAD PDF
DISCLAIMER : THIS WEBSITE IS NOT THE ORIGINAL PUBLISHER OF THIS BOOK ON NET. THIS E-BOOK HAS BEEN COLLECTED FROM OTHER SITES ON INTERNET. ALL THE RIGHTS ON THIS BOOK BELONGS TO ACE ENGINEERING ACADEMY.