STRUCTURAL ANALYSIS
MADE EASY GATE HANDWRITTEN CLASSROOM NOTES
FREE DOWNLOAD PDF
Structural Analysis Made Easy GATE Handwritten Notes PDF Download for free exclusive at CivilEnggForAll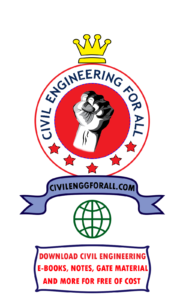 Structural Analysis Made Easy GATE Handwritten Notes PDF Download
PLEASE NOTE : WE PROVIDE ONLY VERIFIED NOTES AND MATERIALS. ALL THE OTHER NOTES WHICH ARE AVAILABLE IN THE INTERNET WITH THE NAME MADE EASY CIVIL NOTES ARE FAKE AND ARE NORMAL CLASSROOM NOTES OF SOME COLLEGE. WE ALWAYS TRY TO BRING OUT QUALITY NOTES FOR FREE AND FOR THE SAKE OF STUDENTS WHO ARE REALLY WORKING HARD DAY AND NIGHT AIMING GOOD GATE/IES RANKS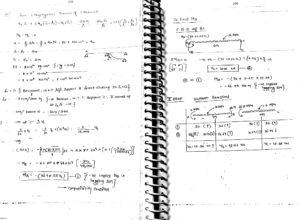 History – Structural Analysis :
A structure (from the Latin) is anything built: say an arched bridge or a cathedral from stone; a ship or a roof (and perhaps a spire) from timber; an earth dam or an excavation in soil for a fortification; or (as isolated usages) iron bars (in China first) or vegetable ropes to form suspension chains in bridges. Before the Renaissance all these structures were built without calculation, but not without 'theory', or what today would be called a 'code of practice'. Mignot's statement in 1400, at the expertise held in Milan, that are sine scientia (practice is nothing without theory), testifies to the existence of a medieval rule-book for the construction of cathedrals; the few pages of a builder's manual bound in with the book of Ezekiel in about 600 BC show that there were yet earlier rules. These rules, for construction in the two available materials, stone and wood, were essentially rules of proportion and, as such, are effectively correct.
Stresses in ancient structures are low, and this has helped to ensure their survival. The stone in a medieval cathedral, or in the arch ring of a masonry bridge, is working at a level of one or two orders of magnitude below its crushing strength. Similarly, deflections of such structures due to loading are negligibly small (although the movements imposed by warping of the material or by slow movements of foundations may often be seen). What is necessary is that ancient structures should be of the right form; a flying buttress must be of the right shape, an arch ring must have a certain depth, and a river pier must have a minimum width. Correct form is a matter of correct geometry, and the ancient and medieval rules of proportion were established empirically to give satisfactory designs.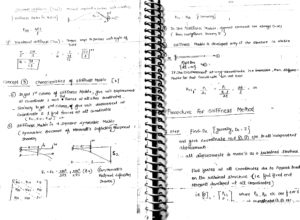 Plastic Theory :
Plastic methods are concerned with estimates of the strength of structures, and they make use of the fact that any practical material has good ductile properties. Thus glass, which would shatter, is not used to form a load bearing structure; wrought iron or steel, however, can suffer a certain amount of permanent deformation, as can timber, reinforced concrete and, as it turns out, masonry.


Such materials allow internal forces in a structure to redistribute themselves; as loads are slowly increased, their final collapse values are predictable, and reproducible, with spectacular accuracy. The small imperfections of fabrication and erection of a hyperstatic structure, which alter so markedly the elastic distribution of internal forces, have no effect on ultimate carrying capacity.
PASSWORD :

CivilEnggForAll
OTHER USEFUL LINKS FROM CIVILENGGFORALL
STRENGTH OF MATERIALS MADE EASY GATE HANDWRITTEN NOTES : CLICK HERE
STRENGTH OF MATERIALS (PART-1) MADE EASY GATE HANDWRITTEN NOTES : CLICK HERE
STRENGTH OF MATERIALS (PART-2) MADE EASY GATE HANDWRITTEN NOTES : CLICK HERE
HYDRAULIC MACHINERY MADE EASY GATE HANDWRITTEN NOTES : CLICK HERE
SURVEYING (PART-1) MADE EASY GATE HANDWRITTEN NOTES : CLICK HERE
SURVEYING (PART-2) MADE EASY GATE HANDWRITTEN NOTES : CLICK HERE
FLUID MECHANICS (PART-1) MADE EASY GATE HANDWRITTEN NOTES : CLICK HERE
FLUID MECHANICS (PART-2) MADE EASY GATE HANDWRITTEN NOTES : CLICK HERE
ENVIRONMENTAL ENGINEERING (PART-1) MADE EASY GATE HANDWRITTEN NOTES : CLICK HERE
ENVIRONMENTAL ENGINEERING (PART-2) MADE EASY GATE HANDWRITTEN NOTES : CLICK HERE
GEOTECHNICAL ENGINEERING (PART-1) MADE EASY GATE HANDWRITTEN NOTES : CLICK HERE
GEOTECHNICAL ENGINEERING (PART-2) MADE EASY GATE HANDWRITTEN NOTES : CLICK HERE
RAILWAY ENGINEERING MADE EASY GATE HANDWRITTEN NOTES : CLICK HERE
HIGHWAY ENGINEERING MADE EASY GATE HANDWRITTEN NOTES : CLICK HERE
SURVEYING AE & AEE HANDWRITTEN NOTES : CLICK HERE
GENERAL SCIENCE AE AEE HANDWRITTEN NOTES : CLICK HERE
STRUCTURAL ANALYSIS AE & AEE HANDWRITTEN NOTES : CLICK HERE
PERT AND CPM AE AEE HANDWRITTEN NOTES PDF : CLICK HERE
Geography AE AEE Ace Academy Handwritten Notes PDF : CLICK HERE TO DOWNLOAD
Indian Polity AE AEE Civil Engineering Handwritten Notes PDF : CLICK HERE TO DOWNLOAD
Economics AE AEE Civil Engineering Handwritten Notes PDF : CLICK HERE TO DOWNLOAD