FLUID MECHANICS
PART-1
MADE EASY GATE HANDWRITTEN CLASSROOM NOTES
FREE DOWNLOAD PDF
Fluid Mechanics Made Easy GATE Handwritten Classroom Notes PDF free Download exclusive at CivilEnggForAll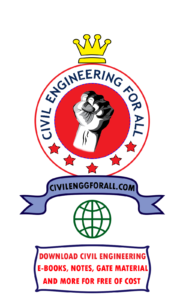 Fluid Mechanics Made Easy GATE Handwritten Classroom Notes PDF
PLEASE NOTE : WE PROVIDE ONLY VERIFIED NOTES AND MATERIALS. ALL THE OTHER NOTES WHICH ARE AVAILABLE IN THE INTERNET WITH THE NAME MADE EASY CIVIL NOTES ARE FAKE AND ARE NORMAL CLASSROOM NOTES OF SOME COLLEGE. WE ALWAYS TRY TO BRING OUT QUALITY NOTES FOR FREE AND FOR THE SAKE OF STUDENTS WHO ARE REALLY WORKING HARD DAY AND NIGHT AIMING GOOD GATE/IES RANKS.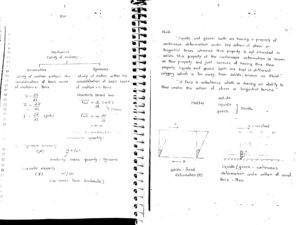 Fluid :
Liquids and gases both are having a property of continuous deformation under the action of shear or tangential forces whereas this property is not inherited in solids. This property of the continuous deformation is known as Flow property and just because of having this flow property, liquids and gases both are kept in different category which is far away from solids, known as fluid.
A fluid is substance which is having an ability to flow under the action of shear or tangential forces.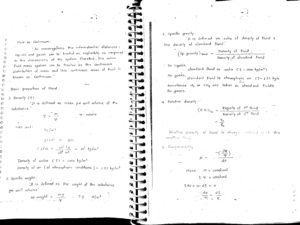 Fluid as continuum :
In macrosystems, the intermolecular distances in liquids and gases can be treated as negligible as compared to the dimensions of the system. Therefor the entire fluid mass system can be treated as the continuous distribution of mass and this continuous mass of fluid is known as Continuum.
Basic Properties of Fluid :
1. Density : It is defined as mass per unit volume of the substance
2. Specific Weight : It is defined as the weight of the substance per unit volume.
3. Specific Gravity : It is defined as ratio of density of liquid to the density of standard fluid.
For liquids, standard fluid is water. For gases, standard fluid is atmospheric air. Sometimes H2 or CH4 are taken as standard fluids for gases.
4. Relative Density : Relative density is the ratio of denisity of 1st fluid to that of the 2nd fluid. Relative density of fluid is always defined with repect to the another fluid.
Viscosity :
The two adjacent layers of a fluid resist the motion of each other. Such a fundamental property of fluid is known as Viscosity. It is also known as the internal friction between the layers of the fluid. The basic cause of Viscosity is the cohesive forces between the molecules of fluid, ie cohesion. The relative velocity of contacting layer with surface is zero viscosity condition.
PASSWORD :

CivilEnggForAll
OTHER USEFUL LINKS FROM CIVILENGGFORALL
ENVIRONMENTAL ENGINEERING (PART-1) MADE EASY GATE HANDWRITTEN NOTES : CLICK HERE
ENVIRONMENTAL ENGINEERING (PART-2) MADE EASY GATE HANDWRITTEN NOTES : CLICK HERE
GEOTECHNICAL ENGINEERING (PART-1) MADE EASY GATE HANDWRITTEN NOTES : CLICK HERE
GEOTECHNICAL ENGINEERING (PART-2) MADE EASY GATE HANDWRITTEN NOTES : CLICK HERE
RAILWAY ENGINEERING MADE EASY GATE HANDWRITTEN NOTES : CLICK HERE
HIGHWAY ENGINEERING MADE EASY GATE HANDWRITTEN NOTES : CLICK HERE
SURVEYING AE & AEE HANDWRITTEN NOTES : CLICK HERE
GENERAL SCIENCE AE AEE HANDWRITTEN NOTES : CLICK HERE
STRUCTURAL ANALYSIS AE & AEE HANDWRITTEN NOTES : CLICK HERE
PERT AND CPM AE AEE HANDWRITTEN NOTES PDF : CLICK HERE
Geography AE AEE Ace Academy Handwritten Notes PDF : CLICK HERE TO DOWNLOAD
Indian Polity AE AEE Civil Engineering Handwritten Notes PDF : CLICK HERE TO DOWNLOAD
Economics AE AEE Civil Engineering Handwritten Notes PDF : CLICK HERE TO DOWNLOAD