GEOTECHNICAL ENGINEERING
PART-2
MADE EASY GATE HANDWRITTEN CLASSROOM NOTES
FREE DOWNLOAD PDF
Geotechnical Engineering Made Easy GATE Handwritten Notes Part 2 PDF Download for Free only at CivilEnggForAll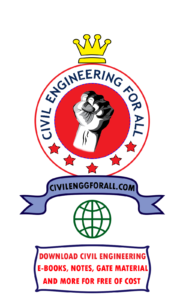 Geotechnical Engineering Made Easy GATE Handwritten Notes Part 2
PLEASE NOTE : WE PROVIDE ONLY VERIFIED NOTES AND MATERIALS. ALL THE OTHER NOTES WHICH ARE AVAILABLE IN THE INTERNET WITH THE NAME MADE EASY CIVIL NOTES ARE FAKE AND ARE NORMAL CLASSROOM NOTES OF SOME COLLEGE. WE ALWAYS TRY TO BRING OUT QUALITY NOTES FOR FREE AND FOR THE SAKE OF STUDENTS WHO ARE REALLY WORKING HARD DAY AND NIGHT AIMING GOOD GATE/IES RANKS.
Topics covered in this book :
1. Shear Strength of Soil
2. Earth Pressure
3. Stability of Slopes
4. Foundation Engineering
5. Pile Foundation

Shear Strength of Soil :
Shear Strength of soil is a maximum resistance offered by the soil grains, against the shear deformation.
Soil may derive its shear strength from the following parameters : Interlocking between particles, Friction between particles due to sliding or rolling, Intermolecular attraction due to cohesiveor adhesion.

Examples of Shear Failure :
Sliding of land mass in infinite slope
Failure of finite slope (face, toe, base failure)
Failure of soil below a building foundation (general, local and punching shear failure)

Mohr's Coloumb's theory of shear strength :
According to this theory shear strength of soil depends upon the following.
Cohesion between particles on critical plane.
Angle of internal friction between particles which accounts for interlocking resistance and frictional resistance (dense sand have greater friction angle)
Normal stress critical plan/failure plabe which increases with the depth in the soil.

Earth Pressure :
In the designing of retaining wall and other retaining structures (sheet pile walls), pressure exerted by material retained by these structures is also considered. This pressure exerted by retained material is termed as Earth Pressure.
Retaining material retained by retaining wall or structure is termed as backfill which may have its top surface horizontal or inclined.
Earth Pressure at rest condition:
If the wall is rigid and unyielding, soil retained by it will be in the state of rest and there will be no displacement or deformation.
The pressure exerted by soil on the wall in this stage is termed as Earth Pressure at rest condition.
Foundation Engineering :
Foundation is that part of structure through which load is transmitted to the soil (earth)
The failure of foundations might be because of following factors :
Settlement of soil/foundation which is called settlement failure.
Sliding or slipping of foundation/soil such failure is called shear failure
The foundation should be safe in above failures hence the allowable load in foundation is minimum of the above mentioned criterias.




Types of Piles based on their actions :
End Bearing Piles : These piles rest over stiff/hard strata. The load carrying capacity is due to end bearing action or point resistance. Length of such piles depend upon position of stiff strata.
Friction/Hanging Piles : Such piles are driven in soft clay or loose sand extending to great depth. The load carrying capacity is due to skin friction action. Length of such piles may be 10m to 20m
End Bearing and Friction Piles : If piles are driven in medium or stiff soil, the load bearing is due to combined effect of end bearing action and skin friction action.
 PASSWORD :

CivilEnggForAll
OTHER USEFUL LINKS FROM CIVILENGGFORALL
GEOTECHNICAL ENGINEERING (PART-1) MADE EASY GATE HANDWRITTEN NOTES : CLICK HERE
RAILWAY ENGINEERING MADE EASY GATE HANDWRITTEN NOTES : CLICK HERE
HIGHWAY ENGINEERING MADE EASY GATE HANDWRITTEN NOTES : CLICK HERE
SURVEYING AE & AEE HANDWRITTEN NOTES : CLICK HERE
GENERAL SCIENCE AE AEE HANDWRITTEN NOTES : CLICK HERE
STRUCTURAL ANALYSIS AE & AEE HANDWRITTEN NOTES : CLICK HERE
PERT AND CPM AE AEE HANDWRITTEN NOTES PDF : CLICK HERE
Geography AE AEE Ace Academy Handwritten Notes PDF : CLICK HERE TO DOWNLOAD
Indian Polity AE AEE Civil Engineering Handwritten Notes PDF : CLICK HERE TO DOWNLOAD
Economics AE AEE Civil Engineering Handwritten Notes PDF : CLICK HERE TO DOWNLOAD