STEEL STRUCTURES
CIVIL ENGINEERING – ACE ENGINEERING ACADEMY
STUDY MATERIAL – 2014 EDITION
FREE DOWNLOAD PDF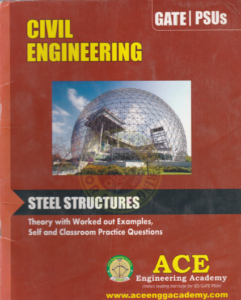 ABOUT THE BOOK
SUBJECT : STEEL STRUCTURES – THEORY WITH WORKED OUT EXAMPLES SELF AND CLASSROOM PRACTICE QUESTIONS
AUTHOR : SUBJECT EXPERTS OF ACE ENGINEERING ACADEMY – HYDERABAD
PUBLISHERS : ACE ENGINEERING PUBLISHERS
IDEAL FOR : GATE AND PSU's – CIVIL ENGINEERING STREAM
DOWNLOAD LINKS :



CONTENTS
Materials and Specifications
Bolted Connections
Welded connections
Eccentric Connections
Tension Members
Compression Members
Column Bases and Column splices
Beams
Plate Girder
Gantry Girders
Roof Truss
Steel structures are built up with hot rolled steel sections
Hot rolled steel sections are made up of structural steel
IS 800-2007: code of practice for use of structural steel in general building construction




1. Types of structural steel Is 226 (Standard Quality) IS 2062 (Fusion welding Quality) IS 961 (High tensile steel) IS 1977 (Ordinary Quality) IS 8500 (Medium & high strength qualities)
2. IS 226 Standard Quality Most commonly steel for purposes of buildings bridges, industrial structures, transmission line towers etc
Revieting bolting an be done for all thickness but welding is permitted for thickness <20mm only
Various types of rolled structural steel section a) Rolled steel L-sections beam section
b) Rolled steel channel sections
c) Rolled steel Tee sections
d) Rolled steel angle sections
e) Rolled steel bars
f) Rolled steel tubular sections
g) Rolled steel flats
h) Rolled steel plates
i) Rolled steel sheets etc
I-sections – Indian standard junior beam (ISJB) Indian standard light beam (ISLB) Indian standard medium weight beam ME: Indian standard wide flange beam (ISWB) Indian standard heavy beam (SHB) Indian column section (SC) An I section is designated by its depth and weight
Channel Sections: Indian standard junior channel (ISJC) Indian standard light channel (ISLC) Indian standard medium weight channel with sloping flange (MC) Indian standard medium weight channel with parallel flange (MCP) Indian standard gate channel (ISGC) Designated by its depth and weight Eg: ISLC 350 at 380.63 N/m
T-Sections: Indian standard rolled normal T section (ISNT) Indian standard rolled deep legged (ISDT) Indian standard rolled slit light weight T bars (ISLT) Indian standard rolled silt medium weight T bars (ISMT) Indian standard rolled silt T bars from H section (ISHT) Designation ISNT 125 at 274 Nm
Angle sections:
Indian standard equal angles, Indian e standard unequal angles and Indian standard bulb angles
Designated by abbreviation ISA along with lengths of both legs and thickness. Eg: ISA 75x 75 x 6 mm
Introduction to Limit State
Analysis and Design : Analysis refers to the determination of the axial forces, shear forces, bending moments, torsional moments etc acting on different members of a structure due to the applied loads and load combinations
Design involves the selection of shape and size of the member and connection details of various members (beam to beam, beam to column, column to foundation etc) to resist all forces and moments determined in the analysis safely and economically
Design requirements of steel structure
To fit for their purpose (Should sustain all anticipate loads expected on it and Should withstand all deformations during and after construction) Should be safe
Should be economical and durable
Uncertainties in design : The uncertainties affecting the safety of structure are due to Uncertainty about loading (unfavorable deviation of the load from its characteristic value, Inaccurate assessment of the load, improper assessment of load effect etc) Uncertainty about material strength unfavorable deviation of material strength from its characteristic value) Uncertainty about structural dimensions (variation member sizes) due to fabrication tolerances. Uncertainty in the calculation of strength of the member
Limit States : It acceptable limit for the safety and serviceability requirement before failure occurs is called limit state. states are basically two categories, strength and serviceability. It basically statistical method have been used for determination of load and material properties with small probability of structure reaching limit state of strength and serviceability
Characteristic strength or Resistance : The characteristic resistance or strength of a material (such as steel is defined as that value of resistance below which not more than a 5 percentage of test results may be expected to fall.
Characteristic Load : The characteristic load is that value of the load, which has an accepted prob (95 of not being exceeded during the life span of the structure The safety format used in Limit State Codes is based on probable maximum load and probable minimum strengths, so that a consistent level of safety is achieved
DOWNLOAD LINK : GATE & PSU's – STEEL STRUCTURES – CIVIL ENGINEERING – ACE ENGINEERING ACADEMY STUDY MATERIAL – 2014 EDITION – FREE DOWNLOAD PDF
DISCLAIMER : THIS WEBSITE IS NOT THE ORIGINAL PUBLISHER OF THIS BOOK ON NET. THIS E-BOOK HAS BEEN COLLECTED FROM OTHER SITES ON INTERNET. ALL THE RIGHTS ON THIS BOOK BELONGS TO ACE ENGINEERING ACADEMY.