IES MASTER GATE MATERIAL
STRENGTH OF MATERIALS : PART – 2
GATE – PSU – IES – GOVT EXAMS – STUDY MATERIAL
FREE DOWNLOAD PDF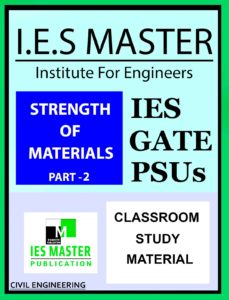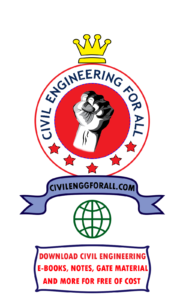 INTRODUCTION :
THEORIES OF FAILURE : EXPLAINED
What are the theories of failure?
We know that under uniaxial tension or co practically, yielding begins at the yield strength​ at which plastic deformation is significant .
But when several components of stress exist, the yielding depends on some combination of these components .
Although, no theoretical method has been deviced that correlates yielding in the uniaxial tensile with yielding in more complex loading, several theories of failure, based on predicting the onset of yielding has been proposed .
The purpose of these theories of failure is to establish, from the behaviour of a material subjected​ to simple tension or compression, the point at which failure will occur under any type of combined loading.
By failure we mean here either yielding(resulting in excessive permanent deformation) or actual rupture (ie. failure due to material failure)
Structure or machine component may, on the other hand, fail due to local buckling or elastic instabilities also.
However the theory of failure takes into account material failure only
Each theory of failure has been proposed to apply to a particular situations only
Thus, theory of failure for ductile material will be different from the theory of failure for brittle material.
Similarly, some theory may be applicable under general loading conditions but may not be applicable for hydrostatic loading conditions.
THEORIES OF FAILURES - GRAPHICAL REPRESENTATION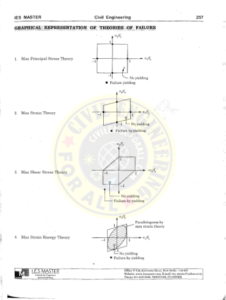 These theories of failures proposed will be applicable to static loadings only.
BENDING STRESS IN BEAMS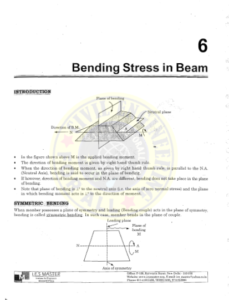 M is the applied bending moment.
The direction of bending moment is given by right hand thumb rule.
When the direction of bending moment, as given by right hand thumb rule, is parallel to N.A (Neutral Axis), bending is said to occur in the plane of bending.
If however, direction of bending moment and N.A. are different, bending does not take place in the plane of bending.
Note that plane of bending is perpendicular to the neutral axis(i.e. the axis of zero normal stress) and the plane in which bending moment acts is perpendicular to the direction of moment.



SYMMETRIC BENDING
When member possesses a plane of symmetry and loading(Bending couple) acts in the plane of symmetry, bending is called symmetric bending. In such case, member bends in the plane of couple.
UNSYMMETRIC BENDING
When bending couple does not acts in the plane of symmetry of member either because they act in a different plane or because the member does not possess a plane of symmetry, the bending is called unsymmetric bending. In such case, member does not bend in the plane of couple.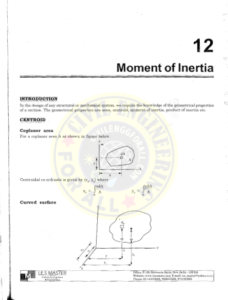 PURE BENDING : Bending of beam under constant Bending Moment is called pure bending.
NON UNIFORM BENDING : Bending of beam in the presence of shear force is called non uniform bending.
SHEAR STRESS IN BEAMS :
Transverse loading applied to a beam(as show below) results in normal and shearing stresses in the beam.
Normal stress is produced by bending and shear stress is produced by shear force V=P
The vertical shearing stress is accompanied by a horizontal shearing stress of equal magnitude known as complementary shear stress.
The dominant criterion in the design of beam for strength is the max value of normal stress. However shearing stress is dominant in case of short and deeper beams.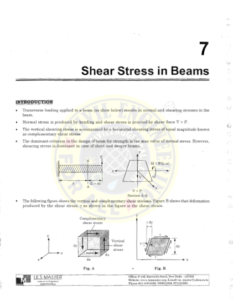 TORSION OF CIRCULAR SHAFT
Torsion refers to the twisting of a straight bar when it is loaded by torques that tend to produce rotation about the longitudinal axis of the bar.
Pure Torsion : A member is said to be in pure torsion when it's cross sections are subjected to only torsional moments and not accompanied by axial forces or bending moment.
What are Columns? Brief Introduction - Columns are vertical members carrying vertical loading and moments. It can be classified as short columns, intermediate column and long column depending upon the mode of failure in the columns.




What are Springs? Explained.
Springs : The primary function of a spring is to deflect or distort under load and to recover its original shape when the load is released.
During deflection or distortion, it absorbs energy and releases the same as and when required. Springs are used in many engineering applications such as automobiles and railway buffers in order to cushion, absorb or control energy due to shock and vibrations.
Springs will suffer a sizeable change in form without being distorted permanently when the loads are applied.
Springs are generally classified as leaf springs or helical springs.
Leaf springs consist of a number of thin curved plates, each of same thickness and width but of different lengths all bent to the same curvature
Helical springs are formed by coiling thick spring wire into a helix.
Helical springs are classified into two groups. When the helix angle is less than about 10 degrees, it is named as close-coiled helical spring. In such springs the wire experiences too little bending or direct shear stress and their effect is neglected.
Torsional stresses are predominant in such springs
If, however the helix angle is significant, then the wire experiences both torsional and bending stresses
Such type of spring is termed as open-coiled helical spring.



Basic Terms used in Springs :
Proof Load : It is the greatest load that the spring can carry without getting permanently distorted.
Proof Stress : It is the maximum stress in the spring when subjected to proof load.
Proof Resilience : It is the strain energy stored in the spring when it has been subjected to the maximum load that is, proof load.
Spring Constant : It is the load per unit deflection. It is expressed in N/m or kN/m
DISCLAIMER : THIS WEBSITE IS NOT THE ORIGINAL PUBLISHER OF THIS BOOK ON NET. THIS E-BOOK HAS BEEN COLLECTED FROM OTHER SITES ON INTERNET. ALL THE RIGHTS ON THIS BOOK BELONGS TO IES MASTER ACADEMY.