FLUID MECHANICS
GATE IES PSU's – STUDY MATERIAL
ACE ENGINEERING ACADEMY FREE DOWNLOAD PDF
ABOUT THE BOOK
SUBJECT : FLUID MECHANICS – THEORY WITH WORKED OUT EXAMPLES SELF AND CLASSROOM PRACTICE QUESTIONS
AUTHOR : SUBJECT EXPERTS OF ACE ENGINEERING ACADEMY – HYDERABAD
PUBLISHERS : ACE ENGINEERING PUBLISHERS
IDEAL FOR : GATE AND PSU's – CIVIL ENGINEERING STREAM
Fluid Mechanics : Introduction
1. FLUID MECHANICS science of mechanics of liquids and gases and is based on same fundamental principles that are employed in the mechanics of solids. Divided into three branches
i) Fluid statics Study of fluids at rest
ii) Kinematics Deals with velocities and accelerations without considering the forces or energy
iii) Fluid dynamics Concerned with the relations between velocities, accelerations and the forces exerted upon fluid in motion.
2. FLUID : Defined as a substance which deforms continuously even with a small amount of shear force exerts on it A solid offers resistance to the force because very strong intermolecular attraction exists in it. Both liquids and Gases come under the category.
DIFFERENCE BETWEEN LIQUID AND GAS
i) Liquid has definite volume but no shape for all practical purposes incompressible highly compressible has no shape and volume
ii) Gas A gas whose temperature and pressure are such that it is very near
iii) Vapour to the liquid phase Eg: Steam
FLUID CONTINUOUS CONCEPT:
Mean free path: Statistical average distance, which molecules of the same fluid travel between collisions.
Any fluid can be treated as continuous medium when : Mean free path/Characteristic length of flow is less than 1%
When a fluid ceases to be continuous medium the fluid characteristics (p,v,p) abruptly change from one point to another. Eg: gases at low pressure.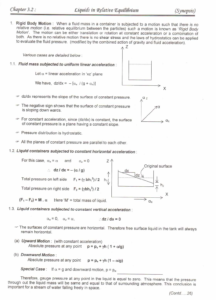 IDEAL AND REAL FLUIDS:
i) Ideal Fluid or Perfect Fluid Non viscous (frictionless) and incompressible :
Non viscous and incompressible
Used in the mathematical analysis of flow problems
Does not exist in reality
Does not offer shear resistance when fluid is in motion.
ii) Real Fluid
Possess the properties such as viscosity, surface tension and compressibility
Resistance is offered when they are set in motion
iii) Specific Volume :
Volume occupied by a unit mass of fluid
Units : m3/kg
Commonly applied for gases
iv) Specific gravity (G) = Specific weight (or mass density of a fluid Specific gravity/Specific weight (or mass density) of a standard fluid
For liquids, standard fluid is water at 40C
For gases, standard fluid is hydrogen or air.
Units No units (ratio)
Specific Gravity of water = 1.0, Mercury = 13.6
Since the density of fluid varies with temperature, specific gravity must be determined and specified at a particular temperature.
v) Viscosity : A measure of its resistance to shear or angular deformation.
A property by virtue of which its offers resistance to the movement of one layer of fluid over the adjacent layer. Due to
i) Intermolecular momentum
ii) Transfer of molecular momentum (interchange between the layers)
Dynamic Viscosity : Independent of pressure
For Liquids Temperature increases<–>viscosity decreases because molecular momentum​ increases and cohesion is negligible in gases.
b) Kinematic Viscosity: Depends on both pressure and Temperature.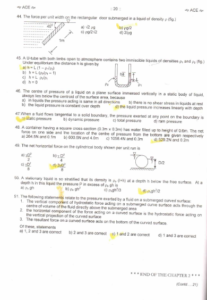 VAPOUR PRESSURE : In a closed vessel at a constant temperature, the liquid molecules break away from the liquid surface and enter the air space in vapour state.
When the air above the liquid surface is saturated with liquid vapour molecules then the pressu exerted on liquid surface is called vapour pressure
Vapour pressure increases with temperature.
The low vapour pressure of mercury (along with high density) makes it very suitable for use barometers and other pressure measuring devices.
Cavitation: Occurs in a flow system, dissolved gases (vapor bubbles) carried into a region of high pressure and their subsequent collapse gives rise to high pressure. which leads to noise, vibrations and erosion
1. Pump impellers
2. Turbine runners
3. Hydraulic structures like spillways and sluice gates
4. Ship propellers
SURFACE TENSION
Cohesion : Force of attraction between the molecules of the same liquid.
Adhesion : Force of attraction between the molecules of different liquids (or) between the liquid molecules and solid boundary containing the liquid
A liquid forms an interface with a second liquid or gas. This liquid air interface behaves like a under tension. The surface energy per unit area of interface is called Surface Tension It can also be expressed as a line surface Force per unit length.
Units:N/m Dimensions: F/L , M/T2 Surface tension is due to cohesion between liquid molecules. As temperature increases surface tension decreases (because cohesion decreases)
Due to cohesion, surface tension pressure changes occur across a curved surface of (i) liquid jet (ii) droplet iii) soap bubble
Capillarity: The phenomenon of rise or fall of a liquid surface relative to the adjacent general level of liquid small The rise of liquid surface is designated as rise and lowering is called diameter tubes. The rise of liquid surface is capillary depression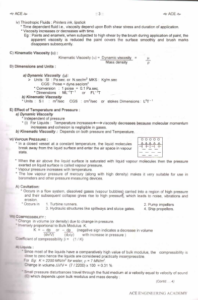 DISCLAIMER : THIS WEBSITE IS NOT THE ORIGINAL PUBLISHER OF THIS BOOK ON NET. THIS E-BOOK HAS BEEN COLLECTED FROM OTHER SITES ON INTERNET. ALL THE RIGHTS ON THIS BOOK BELONGS TO ACE ENGINEERING ACADEMY.