SURVEYING
GATE IES PSU's – STUDY MATERIAL
ACE ENGINEERING ACADEMY FREE DOWNLOAD PDF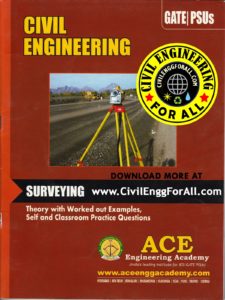 ABOUT THE BOOK
SUBJECT : SURVEYING – THEORY WITH WORKED OUT EXAMPLES SELF AND CLASSROOM PRACTICE QUESTIONS
AUTHOR : SUBJECT EXPERTS OF ACE ENGINEERING ACADEMY – HYDERABAD
PUBLISHERS : ACE ENGINEERING PUBLISHERS
IDEAL FOR : GATE AND PSU's – CIVIL ENGINEERING STREAM
CONTENTS
Fundamental concepts
Linear Measurements including chain survey
Compass Survey
Theodolite Survey
Traverse Surveying & omitted Measurements
Leveling
Curves
Tachometry
Contours
Areas and Volumes
Plane Table Survey
Objects of surveying :
a. Determining relative positions of various points above on our below the surface
b. To Mark the position of proposed structure in the ground.
c. to determine areas volumes and other related quantities.
Primary Divisions of Surveying
1. primary division is based whether the curvature is Earth is considered or not.
the actual shape of Earth is an oblate spheroid
The polar axis (12713.168 km) is shorter than the equatorial axis.
The average radius of Earth is taken as 6370 km of all calculations point of view.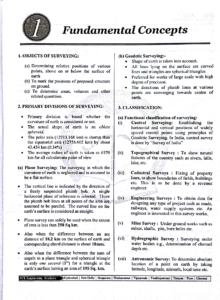 Plane surveying : The surveying in which the curvature of Earth is neglected and is assumed to be a flat surface.
The vertical line is indicated be the direction of a freely suspended plumb Bob. A single horizontal plane of reference is selected. there the plumb Bob lines at all points of the areas are assumed to be parallel. The curved line on the Earth surface is considered to be straight.
Plane survey can safely be used when the extent of area is less than 250 Sq km
Also when the difference between an arc distance of 18.2 km on the surface of earth and corresponding chord distance is about 10mm



Also when the difference between the sum o angels in a plane triangle and spherical triangle​ is only one second (l") for a triangle at th earth's surface having an area of 195 Sq. km.
(b) Geodetic Surveying:- Shape of earth is taken into account All lines lying on the surface are curved lines and triangles are spherical triangles Preferred for works of large scale with high degree of precision The directions of plumb lines at various points are converging towards centre of Earth.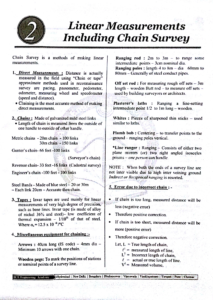 CLASSIFICATION: (a) Functional classification of surveying: (i) Control Surveying: Establishing the horizontal and vertical positions of widely spaced control points using principles of Geodetic Surveying. In India, control survey is done by "Survey of India" (ii) Topographical Survey To show natural features of the country such as rivers, hills, lake, etc. (iii) Cadastral Surveys Fixing of property lines, to show boundaries of fields, buildings etc. This is to be done by a revenue engineer.
Engineering Surveys To obtain data for designing any type of project such as roads, railways, water supply systems etc. An engineer is interested in this Survey works (v) Mine Survey Under ground works such mines, shafts, pits, bore holes (vi) Hydrographic Survey Surveying under water bodies e g., determination of channel depth etc. (vii) Astronomic Survey: To determine absolutely​ location of a point on earth by taking latitude, longitude, azimuth, local time etc.
(vil) Geological survey : Determining different strata the earths crist ,Geologist will bo doing this Survey
(b) Classification based on Instrumenting​ (i) Chain surveying Only linear measurements are taken with a chain of tape. Angular measurement are not taken. Generally used when high accuracy is not required
(ii) Compass Surveying horizontal angles are measured with a compass in addition to linear measurements with a chain or tape
Magnetic compass. is not a precise instrument
More precise than Chain survey
(iii) Levelling levelling instrument is used For finding difference in elevations and determining elevations with reference to datum. More precise than compass survey
(iv) Plane table survey. Both plotting and taking measurements are simultaneous 95 in pe here to search
(v) Theodolite survey : Very precise instrument for measuring horizontal and vertical, angles Useful for the traverse survey and triangulation. Base lines are located using triangulation (vi) Tacheometric Survey Theodolite with a stadia diaphragm having two horizontal cross hairs in addition central horizontal hair is used Not very accurate extremely convenient for Topographical details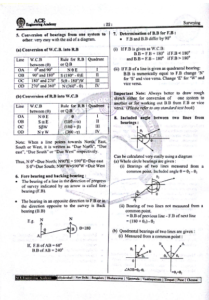 DISCLAIMER : THIS WEBSITE IS NOT THE ORIGINAL PUBLISHER OF THIS BOOK ON NET. THIS E-BOOK HAS BEEN COLLECTED FROM OTHER SITES ON INTERNET. ALL THE RIGHTS ON THIS BOOK BELONGS TO ACE ENGINEERING ACADEMY.