IES MASTER GATE MATERIAL
SURVEYING
GATE – PSU – IES – GOVT EXAMS – STUDY MATERIAL
FREE DOWNLOAD PDF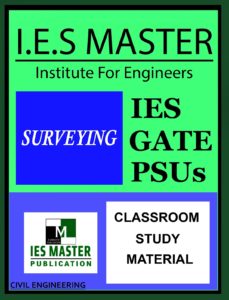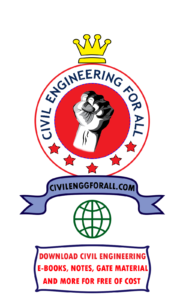 ABOUT THE BOOK : IES MASTER'S GATE MATERIAL IS USEFUL FOR NOT ONLY GATE ASPIRANTS BUT ALSO IES, PSU JOBS, GOVERNMENT JOBS AND MANY COMPETITIVE EXAMS. IES MASTERS IS ONE OF THE TOP MOST GATE COACHING INSTITUTES IN INDIA. A MUST HAVE BOOK FOR MAINLY GATE PREPARING CIVILIANS.
CONTENTS :
FUNDAMENTALS OF SURVEYING
LINEAR MEASUREMENTS
COMPASS SURVEYING
THEODOLITE
TRAVERSING
LEVELLING
TACHEOMETRY
TRIGONOMETRIC LEVELLING
PHOTOGRAMMETRY
THEORY OF ERRORS
CURVES
FIELD ASTRONOMY
MEASUREMENT OF AREA AND VOLUME
PLANE TABLE
CONTOURING
MINOR INSTRUMENTS
INTRODUCTION :
Introduction : Surveying may be defined as the method of making measurements of the relative positions natural& man-made features on earth's surface and the presentation of this information with graphically or numerically The commonest methods of presentation are by means of a Plan or Map Both Plans and Maps are the graphical representations of the features on a horizontal plan Plan is a large scale representation whereas Map is a small scale representation Height information can be added either as spot heights, which are individual heights points, or as contours which give a less detailed but better visual representation of the Plane & Geodetic Surveying Surveying is divided primarily into Geodetic surveying & Plane surveying In Geodetic surveying, large areas of earth's surface are involved and the curvature earth is taken into account. In Plane surveying, relatively small areas are under consideration and it is assumed that the earth's surface is flat In Plane surveying, measurements plotted will represent the projection on the horizontal plane of the actual field measurements .




Based on the purpose the surveys can be classified as under i. Topographical Survey It is a survey conducted to obtain data and to make a map indicating inequalities of land surface by measuring elevations and locating the natural and artificial features of the earth, e.g. rivers, woods, hills, etc. There scales ranges from Engineering Survey These are survey work required before, during and after any engineering works Before any work is started, large-scale topographical maps or plans are required as a basis for design. It is especially used for the design and construction of new routes, e-g roads and railways It is also used to calculate the areas and volumes of land and data for setting out curves for route alignment. Typical scales are as follows: l 50, 1 100, 1 200 Building work e Site plans, Civil engineering works: Town surveys, Highway survey Cadastral Survey These are undertaken to produce plans of property boundaries for legal purposes. These are known as public land survey. Scales are 1 1000 to 1 5000 Hydrographic Survey These surveys are conducted on or near the water body, such as lakes, rivers, bays, harbor marine surveys are. special type of hydrographic surveys. covers a broader area near sea for offshore structures, navigations, tides, etc.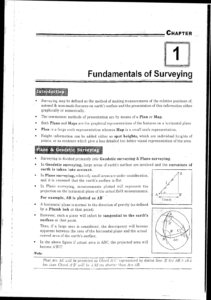 Linear Measurements
Introduction
Surveying is often referred to as chain surveying (or tape and offset surveying, if the principal item of equipment traditionally used is a measuring chain tape Now a days, as a result of improvements in manufacturing techniques and a consequential reduction in purchase price, the chain has been replaced by the more accurate steel band. Chain surveying is used for areas of small extent on open ground having few simple details It is not suitable for large areas having many details. In surveying, the term detail means a natural or man-made feature at or near the ground surface. It consists of l. Hard details such as buildings, roads, walls, 2. Soft details such as a vegetations, trees, river; 3. Overhead details, such as power and telephone lines 4. Underground details, such as water mains, sewers. Theodolite Introduction A theodolite is an important instrument used for measuring horizontal and vertical angles in surveying. It can also be used for a number of surveying operations, such as prolonging a line, measuring distances indirectly and levelling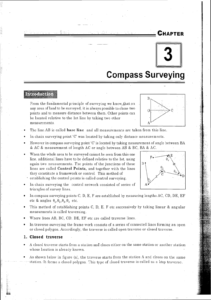 Classification : Theodolites can be classified into transit and non-transit theodolites. 1. Transit Theodolite A theodolite is said to be a transit one when its telescope can be rotated through 180 in a vertical plane about its horizontal axis, thus directing the telescope in exactly opposite direction. 2. Non-Transit Theodolite A theodolite is said to be a non-transit one when its telescope cannot be rotated through 180 in a vertical plane about its horizontal axis. Such theodolites are obsolete nowadays.






Theodolites can also be classified into two types as follows: 1. Vernier Theodolites 2. Precise Optical Theodolites i. Vernier Theodolites 2. Precise optical Theodolites In a vernier theodolites, verniers are used for taking the readings. These theodolite a commonly used in general work. Most of the vernier theodolites can read angles up to the least count of theodolite is 20″ Precise optical theodolite is fitted with an optical system which is used to read both ha and vertical angles precisely. These Theodolites are having a unicrometer for taking and are also called as Microptic Theodolites. These theodolites are used for precise work. Most of these theodolites can read angles or less. The size of a theodolite is defined by the size its lower graduated circle. For example, theodolite means the diameter of the graduated circle of the lower plate is 20 cm. G the size of the theodolites varies from 8 to 25 cm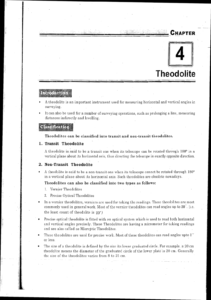 Traversing Introduction : A traverse is a series of connected lines whose length and direction a measured in field. The field work in a theodolite traverse consists of i) reconnaissance, (i) selection and marking of stations, (iii) measurement of traverse lines  iv) angular measurements and(v) picking up the details. A theodolite traverse is commonly used for providing a horizontal control system to determine the relative positions of the various points on the surface of the earth Earlier when sophisticated distance measurement instruments were not available, we relied on triangulation. A method where one base line was measured and all angles are measured to find out lengths of other lines. However with the advent of Electronic Distance Measurement instruments EDMIJ, traversing is fast replacing triangulation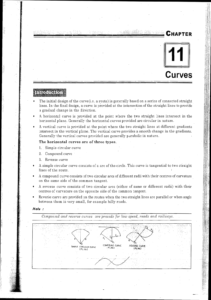 Curves Introduction

The initial design of the curve(i.e. a route) is generally based on a series of connected straight lines. In the final design, a curve is provided at the intersection of the straight lines to provide a gradual change in the direction. A horizontal curve is provided at the point where the two straight lines intersect in the horizontal plane. Generally the horizontal curves provided are circular in nature. A vertical curve is provided at the point where the two straight lines at different gradients intersect in the vertical plane. The vertical curve provides a smooth change in the gradients. Generally the vertical curves provided are generally parabolic in nature.






The horizontal curves are of three types. 1. Simple circular curve 2. Compound curve 3. Reverse curve A simple circular curve consists of a arc of the circle. This curve is tangential to two straight lines of the route A compound curve consists of two circular arcs of different radii with their centres of curvature on the same side of the common tangent A reverse curve consists of two circular arcs (either of same or different radii) with their centres of curvature on the opposite side of the common tangent Reverse curve are provided on the routes when the two straight lines are parallel or when angle between them is very small, for example hilly roads.

DISCLAIMER : THIS WEBSITE IS NOT THE ORIGINAL PUBLISHER OF THIS BOOK ON NET. THIS E-BOOK HAS BEEN COLLECTED FROM OTHER SITES ON INTERNET. ALL THE RIGHTS ON THIS BOOK BELONGS TO IES MASTER ACADEMY.