STRENGTH OF MATERIALS
CIVIL ENGINEERING – ACE ENGINEERING ACADEMY
STUDY MATERIAL
FREE DOWNLOAD PDF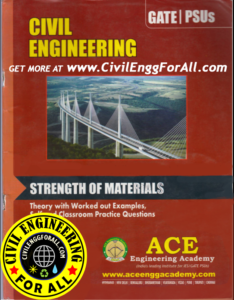 ABOUT THE BOOK
SUBJECT : STRENGTH OF MATERIALS – THEORY AND WORKED OUT EXAMPLES, SELF AND CLASSROOM PRACTICE QUESTIONS
PUBLISHERS : ACE ENGINEERING ACADEMY
IDEAL FOR : GATE & PSUs – CIVIL ENGINEERING
EDITION : 2014
AUTHORS : SUBJECT EXPERTS OF ACE ENGINEERING ACADEMY, HYDERABAD
CONTENTS
Simple Stress and strains
Complex Stress and strains
Shear Force and Bending Moment
Centre of Gravity and Moment of Inertia
Theory of Simple Bending
Shear Stress Distribution in Beams
Torsion
Slope and Deflections
Thin cylinders
Columns and Struts
Strain Energy Resilience
Propped and Fixed Beams
Shear Centre and unsymmetrical Bending
Key Sheet (Level-1 and Level-2)
BRIEF INTRO TO THE BOOK – STRENGTH OF MATERIALS ACE GATE MATERIAL
Strength: The ability of a part or element of a structure to resist failure.
Stiffness: The ability to resist deformation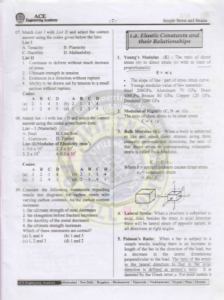 Assumptions made in strength calculations of structural analysis:
(a) The material of a body has a solid continuous structure.
(b) Within limits of the part of the body the material is homogeneous and isotropic
Homogeneous: A body is said to be homogeneous if it has identical properties at all points in identical directions.
Isotropic: A material is said to be isotropic, if at any point it has identical elastic properties in all directions
Ex: (i) A fine grained material is mostly isotropic (ii) For materials like timber, concrete and stone assumptions is only approximate
There are no internal forces in a body prior to loading.
Principle of super position is valid. (It is valid only when the deformations are small compared to dimensions of body and deformations are linear functions of acting force.)
Saint Venant's principle is valid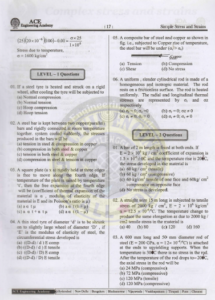 Stress: The internal resistance offered by a body against the deformation is called stress. Mathematically, Stress = Force/Area.
Types (i) Normal or direct stress : The stress due to an axial force. It may be either direct tensile (or) compressive
Bending Stress: Can be Bending (flexural) tensile or compressive stresses In the element shown below the layers above N.A are subjected to flexural compressive stress whereas the layers below N.A. are subjected to flexural tensile stress
Stress due to Torsion: Torsion or twisting moment results in torsional shear stress
Strain: (a) Longitudinal Strain (or) Direct Strain: The deformation per unit length caused by normal force in its direction.
(b) Shear Strain : In case of tangential force (shear force on a plane change in angle measured in radius is called shear strain
Mechanical Properties of Materials:
(a) Elastic Material: A material which regains its original and shape on removal of stress is said to be elastic material
(b) Plastic Material: A material which can undergo permanent deformation without rupture is aid to be plastic material. This property of the material is known as plasticity. Plasticity is important when a material is to be mechanically formed by causing the material to flow.
(c) Ductile Material: A material which an undergo considerable deformation without is said to be ductile material. The major portion of deformation is plastic.
(d) Brittle Material A material which ruptures with little or no plastic deformation is said to be brittle material.
(e) Set or Permanent set: The deformation or strain remaining in a body after removal of stress is known as permanent set. This is due to plastic property material
(f) Elastic Limit: The greatest stress that a material can take without permanent set on the removal of stress is known as elastic limit
(g) Proportionality Limit: The greatest stress that a material can take without deviation from straight line relation between stress and train is known as proportionality limit.
(h) Endurance limit or Fatigue limit: The greatest stress, applied infinite number of times, that a material can take without causing failure is known as endurance or fatigue limit
(i) Ultimate strength: The maximum stress material can take is known ultimate strength. This is equal to maximum load divided by original area of cross-section.
(j) Modulus of resilience: The energy stored the elastic limit is known as Modulus of resilience
(k) Modulus of toughness: The amount of work required static volume to cause under modulus toughness
(l) Modulus of rupture: The ultimate strength n flexure or torsion is known as modulus of rupture.
(m)Strain hardening: The increase in strength after plastic zone due to rearrangement of molecules in the material.
(n) Proof Stress: The stress which is just sufficient to cause a permanent set (elongation) equal to a specified percentage of the original gauge length
(o) Elastic Strain: It is the dimensional change that occur in a material due to the application of loads and disappears completely on the removal of the loads.
(p) Plastic Strain: It is the dimensional change that occurs in a material due to the application, of the loads and does not disappear after the removal of the loads.
(q) Ductility and Malleability: The plastic response of material to tensile force is known as ductility and plastic response force is known as malleability The elongation and reduction of area of a test piece tested to failure in tension a generally taken as measures of ductility of material.
(r) Creep : The long term deflection due to sustained loads
(s) Factor of safety : It is defined as follows for Ductile materials
FOS = Yield stress/working stress for brittle materials
FOS = Ultimate stress/working stress
(t) Margin of safety = Factor of safety – 1
DISCLAIMER : THIS WEBSITE IS NOT THE ORIGINAL PUBLISHER OF THIS BOOK ON NET. THIS E-BOOK HAS BEEN COLLECTED FROM OTHER SITES ON INTERNET. ALL THE RIGHTS ON THIS BOOK BELONGS TO ACE ENGINEERING ACADEMY.