IES MASTER GATE MATERIAL
R.C.C AND PRESTRESSED CONCRETE : PART 2
GATE – PSU – IES – GOVT EXAMS – STUDY MATERIAL
FREE DOWNLOAD PDF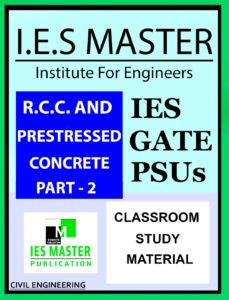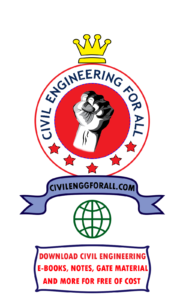 CONTENTS
Introduction 
Limit State Method (PART I)
Working Stress(PART II)
Limit State of collapse in Shear
Bond and Anchorage 
Torsion 
Design of Beam and Slab 
Columns
Footing 
Prestressed Concrete 
Analsysis of prestressed and bending Stress 
Losses in Prestress 
Deflection of prestressed beam and Miscellaneou 
Concrete Technology 
Additional IS156 Recommendations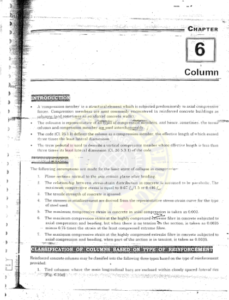 INTRODUCTION :
What is a Column?
Introduction to Column :
A Compression member is a structural element which is subjected predominatily to axial compressive forces. Compression members are most commonly encountered in reinforced concrete building​s as columns. (and sometimes as reinforced concrete walls)  
The column is representative of all types of compression members,  and hence sometimes the terms columns  and compression member are used interchangeably. 
The code defines the column as a compression member,  the effective length of which exceeds three times the least lateral dimension.  
The term pedestal is used to describe a vertical compression member whose effective length is less than three times its least lateral dimension of the code.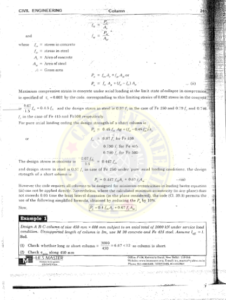 Classification of Columns based on Slenderness Ratios :
Columns (i.e.,  compression members) may be classified into the following two types,  depending on whether slenderness effects are considered insignificant or significant. 
1. Short columns;  and 
2. Slender(or long)  columns.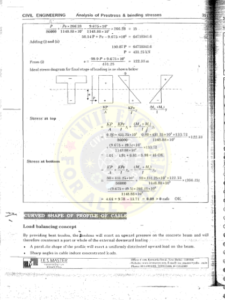 Slenderness is a geometrical property of a compression member which is related to the ratio of its effective length to its lateral dimension.  
This ratio called slenderness ratio,  also provides a measure of the vulnerability to failure of the column by elastic instability (buckling)  in the plane in which the slenderness ratio is computed.
Columns with low slenderness ratios,  ie relatively short and stockly columns,  invariably fail under ultimate loads with the material reaching its ultimate strength and not by buckling. 
On the other hand, columns with very high slenderness ratio are in large lateral deflection) under relatively low compressive loads,  and thereby failing suddenly 
Design codes attempt to preclude such failure by specifying slenderness limits to columns.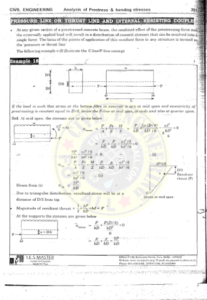 CODE REQUIREMENTS ON REINFORCEMENT AND DETAILING :
Longitudinal Reinforcement :
Minimum Reinforcement :
The longitudinal bars must,  in general,  have a cross-sectional area not less than 0.8%  of the gross are of the column section.  Such a minimum limit is specified by the Code.
To ensure nominal flexural resistance under unforeseen eccentricities in loading;  and to prevent the yielding of the bars due to creep and shrinkage effects which result in a of load from the concrete to the steel.
However,  in the case of pedestals which are designed as plain concrete columns,  the minimum requirement of longitudinal bars may be taken as 0.15 per cent of the gross area of cross-section In the case of reinforcement concrete walls,  the Code(Cl.32.5)  has introduced detailed provisions regarding minimum reinforcement requirements for vertical(and horizontal)  steel.
The vertical reinforcement should not be less than 0.15% of the gross area in general .
This may be reduced to 0.12%  if welded wire fabric or deformed bars(Fe415 / Fe 500 grade steel provided the bar diameter does not exceed 16 mm .
This reinforcement should be placed in two layers if the wall is more than 200 mm thick .
In all cases, the bar spacing should not exceed three times the wall thickness 450mm, whichever is less. 
Maximum Reinforcement :
The maximum cross-sectional area of longitudinal bars should not exceed 6 per cent of the gross area the column section 
However,  a reduced maximum limit of 4 per cent is recommended in general in the interest of better placement and compaction of concrete and,  in particular,  at lapped splice sections. 
In tall buildings,  columns located in the lowermost storeys generally carry heavy reinforcement ~4 percent).  The bars are progressively curtailed in stages at higher levels
Minimum diameter/number of bars and their location :
Longitudinal bars in column(and pedestals)  should not be less than 12 mm in diameter and should not be spaced more than 300 mm apart(centre-to-centre)  along the periphery of the column.
At least 4 bars(one at each corner)  should be provided in a column with rectangular cross-section,  and at least 6 bars(equally spaced near the periphery)  in a circular column.
In spiral columns  (including non-circular shapes),  the longitudinal bars should be placed in contact with the spiral reinforcement,  and equidistant around its inner circumference.
In columns with T-L. other cross sectional shapes,  at least one bar should be located at each corner or apex.
 Longitudinal bars are usually located close to the periphery(for better flexural resistance),  but may be placed in the interior of the column when eccentricities in loading are minimal.  When a large number bars need to be accommodated,  they may be bundled,  or,  alternatively,  grouped.
What is Concrete Technology?
INTRODUCTION TO CONCRETE TECHNOLOGY : 
Concrete a composite man-made material,  is the most widely used building material in the construction​ industry.  
It consists of a rationally chosen mixture of binding material such as lime or cement,  well fine and coarse aggregates,  water and admixtures(to produce concrete with special properties)  
The good concrete are which fulfills two criteria 
(a) The concrete has to be satisfactory in its hardened state,  and
(b) Also in its fresh while being transported from the mixer and placed in the formwork.  
The requirements in the fresh state are that the consistency of the mix be such that it can be comp by the means desired without excessive effort,  and also that the mix be cohesive enough for the methods of transporting and placing used so as not produce segregation with a consequent lack of homogeneity​ of the finished product.  
The primary requirements of a good concrete in its hardened state are a satisfactory compressive strength and an adequate durability.
DISCLAIMER : THIS WEBSITE IS NOT THE ORIGINAL PUBLISHER OF THIS BOOK ON NET. THIS E-BOOK HAS BEEN COLLECTED FROM OTHER SITES ON INTERNET. ALL THE RIGHTS ON THIS BOOK BELONGS TO IES MASTER ACADEMY.