IES MASTER GATE MATERIAL
ENVIRONMENTAL ENGINEERING – 2
(WASTE WATER ENGINEERING)
GATE – PSU – IES – GOVT EXAMS – STUDY MATERIAL
FREE DOWNLOAD PDF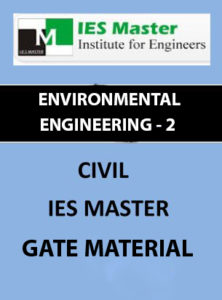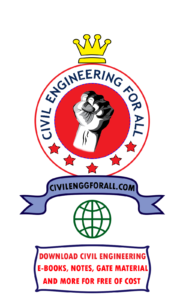 ABOUT THE BOOK :
IES MASTER'S GATE MATERIAL IS USEFUL FOR NOT ONLY GATE ASPIRANTS BUT ALSO IES, PSU JOBS, GOVERNMENT JOBS AND MANY COMPETITIVE EXAMS. IES MASTERS IS ONE OF THE TOP MOST GATE COACHING INSTITUTES IN INDIA. A MUST HAVE BOOK FOR MAINLY GATE PREPARING CIVILIANS.
CONTENTS :
1. Waste Water Characteristics 
2. Biochemical Reaction in Treatment of Waste water 
3. Disposal of Sewage Effluent 
4. Design of Sewerage System and Sewer Appurtenances 
5. Sewage Treatment 
6. Solid Waste Management 
7. Air Pollution 
8. Noise Pollution 
9. Miscellaneous
BOOK INTRODUCTION :
Waste waters are usually classified as industrial waste water or municipal waste water.  industrial waste water with characteristics compatible with municipal waste water is often discharge the municipal sewers.  any industrial waste waters require pretreatment to remove non-compatible substances discharge into the municipal system.  collected in municipal waste water system contains a wide variety of contaminants.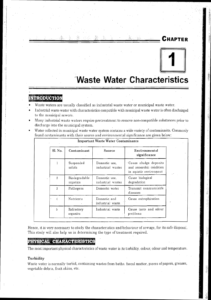 Color : The color of waste water can normally be detected by the naked eye,  it refers to the waste water.  and Fresh waste water is usually gray or light brown;  however,  as organic compounds are broken by bacteria,  the dissolved oxygen in the waste water is reduced to zero and color changes to this condition of waste water is said to be septic or stale.  Some industrial waste waters may also add colours to the domestic waste water.  The common method of colour removal is by coagulation followed by sedimentation.  dour odours in waste water usually are caused by gases produced by the decomposition of organic r The most characteristics odour of stale or septic waste water is that of hydrogen sulphide is produced by anaerobic microorganisms that reduce sulphates to sulphides Temperature The average temperatures of sewage in India is 200C,  which is near about the ideal temperatu the biological activities.
CHEMICAL CHARACTERISTICS Important chemical characteristics of waste water are listed below. Total solids,  suspended solids and settle able solids(in pH value. (H)  Chloride content.  Presence of fats,  greases,  and oils. (vi sulphides,  sulphates and H ALL(vii Dissolved oxygen.  vii Chemical oxygen demand(COD) (ix)  Bin-chemical oxygen demand(BOD).  Total organic carbon(TOC. (xi Theoretical oxygen demand(ThoD).  Total Solids,  Suspended Solids and Settleable Solids Solids present in waste water may be in four forms:  suspended solids,  dissolved solids,  colloidal solids and settleable solids,  Suspended solids,  are those which remain floating in water Dissolved solids are those which dissolve in waste water.  Colloidal solids are finely divided solids remaining either in suspension or in solution.  Settle able solids are that portion of solid matter which settles out,  if the waste water is allowed to remain undisturbed for a period of 2 hours.  The solids in waste water has organic solids as well as inorganic solids,  which is about 45 and 55 per cent of total solids respectively Inorganic matter consists of sand,  gravel,  debris,  chlorides,  sulphates ete,  whereas organic matter consist of carbohydrates such as cellulose,  cotton,  fibre Sugar etc fats and oils from kitchens,  garages,  shops etc  nitrogenous compounds like proteins,  urea,  fatty acids etc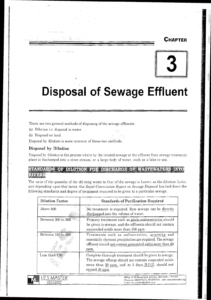 WASTEWATER CHARACTERISTICS  The amount of various kinds of solids present in waste water can be determined as follows: (a)  Total amount of solids can be determined by evaporating a known volume of waste water sample,  and weighing the dry residue left The mass of residue left divided by the volume of sample is total solids in mg/l.  Ob The suspended solids,  also called non-filtrable solids as they are retained on a filter of 1 Hm pores.  Thus weighing the dry residue left and dividing by volume of sample filtered will give suspended solids in mg/l.  The quantity of settleable solids can be determined using Imhoff cone(figure).  Waste water is allowed to stand in the cone two hours and the quantity of solids settled down in the bottom is directly read out,  which gives an approximate amount of settleable solids.
pH Value : The determination of pH value is very important,  as it gives an idea about certain treatments which depends upon pH value.  The pH value can be measured by the help of potentiometer which measure the electrical potential exerted by the hydrogen ions,  and thus indicating their concentrations,  The alkalinity of fresh waste water sample is alkaline but as time passes it becomes acidic,  Cause of the bacterial action in anaerobic or nitrification processes.  Chloride Content These are derived from the kitchen wastes,  human faeces,  and urinary discharges etc.  The normal chloride content of domestic waste water is 120 mg/l,  however,  large amount of chlorides may enter from industries like ice-cream plants,  meat salting etc.,  thus increasing the chloride content of waste water.  The chloride content can be measured by titrating the sample of waste water with standard silver nitrate solution,  using potassium chromate as an indicator Nitrogen Content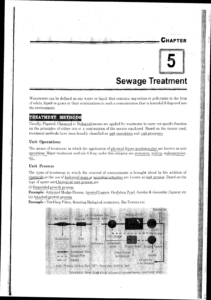 The presence of nitrogen in waste water indicates the presence of organic matter,  and may be found.  in the following forms
a) Free ammonia or ammonia nitrogen(indicates recent pollution)
b) Albuminoid nitrogen or organic nitrogen (indicates quantity of nitrogen before decomposition has started)
c) Nitritea(indicates partly decomposed condition)
d) Nitrates(indicates old pollution(fully oxidised)
Presence of Fats,  oils and Greases Fats and oils are compounds alcohol or glycerol with fatty acids.  such matter form scum on the top the sedimentation tank and dog the voids of the filtering media.  Therefore,  they interferes with the normal treatment met and hence need proper detection and removal . The amount fats and greases in waste water sample an be determined by evaporating it and then mixing the residual solids left with ether Hexane).  The Solution then poured off and evaporated.  leaving behind the fats and greases as residue,  which can be easily weighed.  Sulphides,  Sulphates and Hydrogen Sulphide Gas Sulphides and sulphates are formed due to the decomposition or various sulphur containing substances present in waste water.
This decomposition also leads to evolution of hydrogen sulphide gas causing bad smells and odours,  besides causing corrosion of concrete sewer pipes.  The aerobic and facultative bacteria,  oxidise the sulphur and its compounds present in sewage to initially form sulphides,  which ultimately breakdown to form sulphate ions (S0, which is a stable and unobjectionable end product The initial decompositions is associated with formation of HTS has,  which also ultimately gets oxidised to form sulphate ions.  Dissolved oxygen Dissolved oxygen is required for the respiration of aerobic micro-organisms as well as all other aerobic life forms The dissolved oxygen in fresh waste water depends upon temperature.  If the temperature of sewage is more,  the D-0.  content will be less.  Max quantity of DO.  that can remain mixed in water at a particular temperature is called Saturation Dissolved Oxygen.  Dissolved oxygen less than 4 ppm is detrimental to the survival of fish The Do content of waste water us determined by the Winhler's Method Chemical oxygen Demand(COD)  The coD test is used to measure the content of organic matter of waste water.  Both biodegradable and non biodegradable.  The oxygen equivalent of organic matter that can be oxidised is measured by using chemical oxidising agent in an acidic medium Potassium dichromate has been found to be excellent for this purpose demand test.  This test is also sometimes called dichromate oxygen(COD B0D Nonbiodegradable organics)
DISCLAIMER : THIS WEBSITE IS NOT THE ORIGINAL PUBLISHER OF THIS BOOK ON NET. THIS E-BOOK HAS BEEN COLLECTED FROM OTHER SITES ON INTERNET. ALL THE RIGHTS ON THIS BOOK BELONGS TO IES MASTER ACADEMY.