SURVEYING
PART-1
MADE EASY GATE HANDWRITTEN CLASSROOM NOTES
FREE DOWNLOAD PDF
Surveying Made Easy GATE Handwritten Classroom Notes PDF Download for Free exclusive at CivilEnggForAll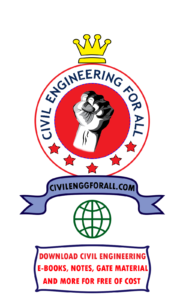 Surveying Made Easy GATE Handwritten Classroom Notes PDF Download
PLEASE NOTE : WE PROVIDE ONLY VERIFIED NOTES AND MATERIALS. ALL THE OTHER NOTES WHICH ARE AVAILABLE IN THE INTERNET WITH THE NAME MADE EASY CIVIL NOTES ARE FAKE AND ARE NORMAL CLASSROOM NOTES OF SOME COLLEGE. WE ALWAYS TRY TO BRING OUT QUALITY NOTES FOR FREE AND FOR THE SAKE OF STUDENTS WHO ARE REALLY WORKING HARD DAY AND NIGHT AIMING GOOD GATE/IES RANKS.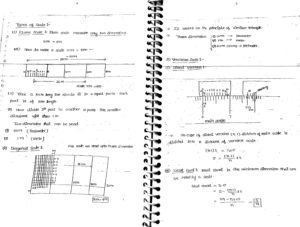 Types of Surveying :
1. Geodetic Surveying : If earth curvature is considered for survey work
2. Plane Surveying : If earth curvature is not considered suitable for small distance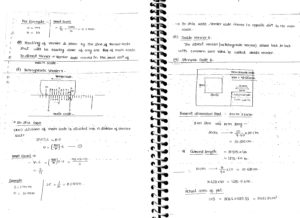 Principle of Surveying :
1. Location of point is measured with respect to two reference points.
2. Working whole to part : Major central points are decided and measured accurately with high degree of precision. Minor details can be collected later to acoid the errorto be accummulated.
Scale : Scale is a ratio of map distance to ground distance.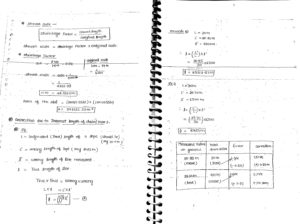 Chain Surveying:
Main Stations : Major central points to divide the area are called main stations.
Main Lines : Lines joining main stations are main lines.
Base Lines : The longest line in the area that divide the total area almost in two parts.
Check Line : Check lines are measured to check the accuracy of survey work done.
Tie Line : Any line drawn to collect more information about different objects in area (for collecting details)
Leveling Terminology :
Benchmark : A fixed location on ground of known Reduced Level from where levelling work can be started.
Reduced Level : Height of any point with respect to either mean sea level or with respect to any benchmark of known point is called reduced level.
Back Sight : First reading taken after setting up the instrument at any station.
Faresight : Last reasing taken from any instrument location
Intermediate Sight : All other readng than Bcksight/Faresight are called Intermediate Sight
Height of Instrument Method : Sum of Reduced Level of Benchmark or previous station and Backsight. Reduced Level of next point is the different between Height of instrument and IS/FS.
Contours :
Contours are the locus of equal elevation points on ground surface.
Contour Intervals : Difference of Reduced levels between two consecutive contours for a drawing is called contour interval. For one drawing contour interval should be kept same at all locations.
PASSWORD :

CivilEnggForAll
OTHER USEFUL LINKS FROM CIVILENGGFORALL
FLUID MECHANICS (PART-1) MADE EASY GATE HANDWRITTEN NOTES : CLICK HERE
FLUID MECHANICS (PART-2) MADE EASY GATE HANDWRITTEN NOTES : CLICK HERE
ENVIRONMENTAL ENGINEERING (PART-1) MADE EASY GATE HANDWRITTEN NOTES : CLICK HERE
ENVIRONMENTAL ENGINEERING (PART-2) MADE EASY GATE HANDWRITTEN NOTES : CLICK HERE
GEOTECHNICAL ENGINEERING (PART-1) MADE EASY GATE HANDWRITTEN NOTES : CLICK HERE
GEOTECHNICAL ENGINEERING (PART-2) MADE EASY GATE HANDWRITTEN NOTES : CLICK HERE
RAILWAY ENGINEERING MADE EASY GATE HANDWRITTEN NOTES : CLICK HERE
HIGHWAY ENGINEERING MADE EASY GATE HANDWRITTEN NOTES : CLICK HERE
SURVEYING AE & AEE HANDWRITTEN NOTES : CLICK HERE
GENERAL SCIENCE AE AEE HANDWRITTEN NOTES : CLICK HERE
STRUCTURAL ANALYSIS AE & AEE HANDWRITTEN NOTES : CLICK HERE
PERT AND CPM AE AEE HANDWRITTEN NOTES PDF : CLICK HERE
Geography AE AEE Ace Academy Handwritten Notes PDF : CLICK HERE TO DOWNLOAD
Indian Polity AE AEE Civil Engineering Handwritten Notes PDF : CLICK HERE TO DOWNLOAD
Economics AE AEE Civil Engineering Handwritten Notes PDF : CLICK HERE TO DOWNLOAD