IES MASTER GATE MATERIAL
R.C.C AND PRESTRESSED CONCRETE : PART 1
GATE – PSU – IES – GOVT EXAMS – STUDY MATERIAL
FREE DOWNLOAD PDF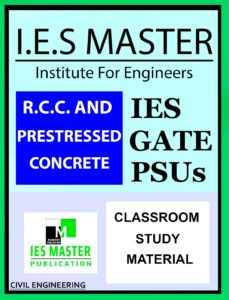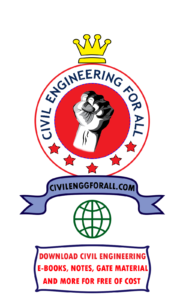 CONTENTS
Introduction 
Limit State Method (PART I)
Working Stress(PART II)
Limit State of collapse in Shear
Bond and Anchorage 
Torsion 
Design of Beam and Slab 
Columns
Footing 
Prestressed Concrete 
Analsysis of prestressed and bending Stress 
Losses in Prestress 
Deflection of prestressed beam and Miscellaneou 
Concrete Technology 
Additional IS 156 Recommendations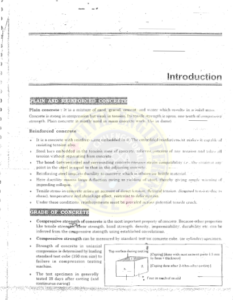 INTRODUCTION :
What is Reinforced Concrete?
REINFORCED CONCRETE : It is a mixture of sand gravel, cement and water which result in a solid mass. Concrete is strong in compression but weak in its tension. It's tensile strength is one tenth of if compressive strength. Plain concrete is mostly used in mass concrete work as in dams. 
Reinforced Concrete:
It is a concrete with reinforcement​ embedded in it.  The embedded reinforcement make it capable of resisting tension also
Steel bars embedded in the tension zone of concrete relieves concrete of any tension without separating from concrete

The bond between steel and surrounding concrete ensure strain compatibility that is the strain energy at any point is equal to that in the adjoining concrete.

Reinforcing steel imparts ductility​ to concrete which otherwise brittle material

Here ductility means large deflection owing to yielding of steel,  thereby giving ample warning of impending collapse

Tensile stress in concrete arises on account of direct tension.  flexural tension,  diagonal tension due to shear. temperature and shrinkage effect, restraint to deformation.
Under these condition reinforcements must be provided across potential tensile crack
What is Grade of Concrete? 
GRADE OF CONCRETE​ : 
Compressive strength of concrete is the most important property of concrete. Because other properties like tensile strength ,shear strength,  bond strength, density, impermeability, durability etc can be inferred from the compressive strength using established correlations.  Compressive strength can be measured by standard test on concrete cube. (or cylinder specimen)
Strength of concrete in uniaxial impression is determined by loading standard test cube(150 mm size)  to failure in compression testing machine.

The test specimen in generally tested 28 days after casting(and continuous curing)

Cube is always tested on sides i.e.,  face in touch with mould

Strength of cube is expressed to the nearest of 0.5 N/mm3

As per IS 456:2000,  three specimen of a sample is taken.  Additional samples may be required for various purposes such as to determine strength of concrete at 7 days or at the time of striking the from work,   or to determine the duration of curing,  or to check the testing error.  Additional specimen may also be required for testing samples cured by accelerated methods

To report,  strength of cube,  we take average of three specimen of a sample.

Individual variation should not be more than plus or minus 15%  of average if variation is more,  test results of the sample are invalid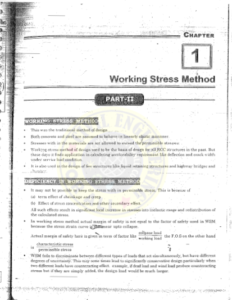 LIMIT STATE METHOD 
What is Limit State Method in RCC ?
INTRODUCTION
The philosophy of the limit state method of design represents a definite advancement over the traditional design philosophies.  Unlike working stress method,  which is based on calculations at service load conditions and unlike ultimate load method.  which is based on calculations on ultimate load conditions alone.  Limit state method aims for a comprehensive and rational solution to the design problem.  by considering safety at ultimate loads and serviceability at working loads
The limit state philosophy uses a partial safety factor format which attempts to provide adequate safety at ultimate loads as well as adequate serviceability at service loads by considering all possible limit state.
What is a Flanged Beam? 
FLANGED BEAM 
INTRODUCTION
In monolithic construction slab and beams are cast together.  If slab in such cases is in compression zone they become effective partially or wholly)  in adding significantly to the area of concrete in compression in beam.  However if flanges(slab)  are located in tension zone,  concrete in the flange(slab)  becomes in effective in cracked x-section section analysis.
In support region of a continuous bean,  BM is negative(-ve)  ie.,  hogging and slab therefore is in tension.  Thus beam in that region even if cast monolithically.  is designed as rectangular beam

Away fron the support region,  the slab will be in compression(BMI being sagging). Hence in this region beam is designed as flanged beam in which part of the slab is take as a part of beam
DISCLAIMER : THIS WEBSITE IS NOT THE ORIGINAL PUBLISHER OF THIS BOOK ON NET. THIS E-BOOK HAS BEEN COLLECTED FROM OTHER SITES ON INTERNET. ALL THE RIGHTS ON THIS BOOK BELONGS TO IES MASTER ACADEMY.