GEOTECHNICAL ENGINEERING
GATE AND PSU's – STUDY MATERIAL
ACE ENGINEERING ACADEMY FREE DOWNLOAD PDF
ABOUT THE BOOK
SUBJECT – GEOTECHNICAL ENGINEERING – THEORY WITH WORKED OUT EXAMPLES SELF AND CLASSROOM PRACTICE QUESTIONS
AUTHOR  – SUBJECT EXPERTS OF ACE ENGINEERING ACADEMY – HYDERABAD
PUBLISHERS – ACE ENGINEERING PUBLISHERS
IDEAL FOR – GATE AND PSU's – CIVIL ENGINEERING STREAM
INTRODUCTION :
Soils are formed by weathering of rocks and Physical weathering results in no change in decomposition of organic matter. chemical composition of particles. There fore, soils may be organic or inorganic It produces coarse grained and non cohesive(depends on source of origin). soils organic soils are called Cumulose soils
Examples: Gravel, Sands. Examples: Peat, Humus, muck etc.
Chemical weathering:
Geological Cycle: Weathering of It is due to chemical actions(oxidation, Transportation-Deposition-Upheaval. hydration, carbonation, solution, leaching, hydrolysis, etc
Types of weathering: Original rock minerals are transformed into
(a) Physical
(b) Chemical clay minerals.
It results in fine grained and cohesive soils. Physical weathering Examples: Clays. It is due to physical effects like temperature abrasion, wedging action of ice, penetration of plant roots etc.
Sedimentary soils These soil particles created at one location, transported and finally deposited in another location.
Range can have any value greater than zero. Some times may also be greater than 1 void ratio for coarse grained soils generally less than that for fine grained soils when spherical grains are arranged in cubical array, the maximum possible e 0.91 When spherically arranged diagonally, the least void ratio, e 0.35
Soil Structure: It is a geometrical arrangement of soil particles in a soil mass. The behavior of soil depends on the soil Structure.
Important types of structures: upon the particle size and mode of formation the following are important types:
(a) Single grained (b) Honey comb (c) Flocculated (d) Dispersed (e) Composite Structure
Dispersed structure occurs in remoulded clays. Face to face orientation Formed when there is net repulsive force between particles Has low shear strength, high compressibility and low permeability
When soil contains different type of particles, a Composite Structure is formed.
Remoulding: Remoulding causes a loss of strength in cohesive soil
Thixotropy: The phenomenon of regaining of lost strength with the passage of time, with no change in water content, is known as thixotropy".
Clay Mineralogy In Gravel and sands, rock minerals like quartz, feldspar, Mica etc. are present In Clays, clay minerals are present. Important clay minerals are Kaolinite, Illite. Monrmorillonite, Halloysite etc.
Index properties: These are the properties useful for classification and identification of soils. Also give rough estimation of Engineering properties of soils. Example: Particle size distribution and relative density for coarse grained soils and consistency limits for fine grained soils.
Engineering properties : These are the properties useful for engineering applications. Examples: Permeability, Compressibility a shear strength.
Shape of particles: Engineering properties of coarse grained soil depends on shape of particles 4. Particle size distribution Sieve analysis is used for coarse grained soils. Wet sieve analysis is suitable if soil contains fines. Sedimentation analysis or wet analysis is used for fine grained soils, finer than 25u size, Sedimentation analysis is based on Stoke's Stoke's law is valid only if the size of the particle is between 0.2mm and 0.2H
SCREENSHOTS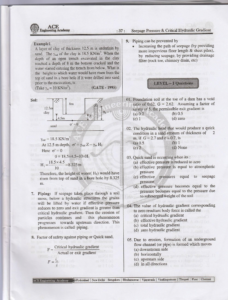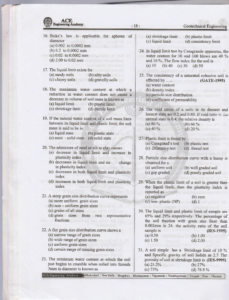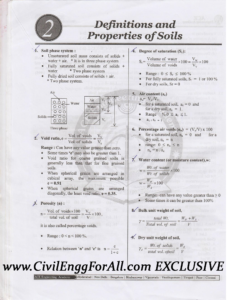 KEEP SHARING FOR MORE NEW CONTENT