IES MASTER GATE MATERIAL
BUILDING MATERIALS
GATE – PSU – IES – GOVT EXAMS – STUDY MATERIAL
FREE DOWNLOAD PDF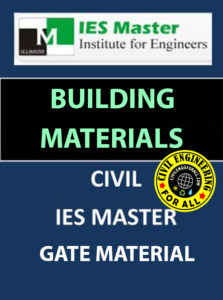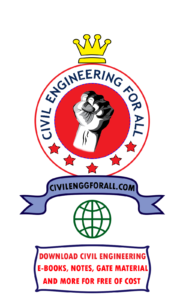 ABOUT THE BOOK :
IES MASTER'S GATE MATERIAL IS USEFUL FOR NOT ONLY GATE ASPIRANTS BUT ALSO IES, PSU JOBS, GOVERNMENT JOBS AND MANY COMPETITIVE EXAMS. IES MASTERS IS ONE OF THE TOP MOST GATE COACHING INSTITUTES IN INDIA. A MUST HAVE BOOK FOR MAINLY GATE PREPARING CIVILIANS.
CONTENTS
CEMENT

CONCRETE

TIMBER

BRICKS

BRICK MASONRY

AGGREGATE

WATER
Cement
INTRODUCTION : Cement is a material which has cohesive and adhesive properties in the presence of water. cement is a product obtained by pulverizing clinker formed by calcinating raw-materials primarily consisting of Lime(Cao),Silicate(Sio), Alumina A,0) and Iron oxide FeO) It was invented by Joseph Aspdin of UK in 1824. He named it portland cement because the hardened concrete made out of the cement aggregate and water in definite proportion resembled the natural stone occurring at portland in England. Yola: pulverize Make into a powder by breaking up or cause to become dust Clinker A hard brick used as a paving stone.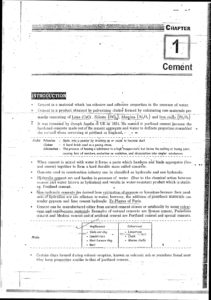 Calcination : The process of heating a substance to a high temperature but below the melting or fusing point causing loss of moisture, reduction on oxidation, and dissociation into simpler substances. When cement is mixed with water it forms a paste which hardens and binds aggregates(fine and coarse) together to form a hard durable mass called concrete Cements used in construction industry can be classified as hydraulic and non hydraulic. Hydraulic cement set and harden in presence of water(Due to the chemical action between ct tuen and water known as hydration) and results in water-resistant product which is stable eg, Portland cement.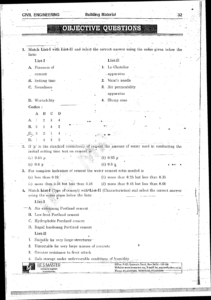 Non-hydraulic cements re derived from calcination of or limestone because their prod ration are not resistant to water. however, the addition of pozzolanic can render gypsum and lime cement hydraulic. Ex:Plaster of Paris. Cement can be manufactured either from natural cement stones or artificially by using calcar eous and argillaceous materials. Examples of natural cements are Roman cement, Puzzolona cement and Medina cement and of artificial cement are Portland cement and special cements. Certain clays formed during volcanic eruption, known as volcanic ash or pozzolana jund near inay have properties similar to that of portland cement.
CHEMICAL COMPOSITION OF RAW MATERIALS : The three basic constituents of lic cements are lime, silica alumina and hon oxide relative proportions of these oxide compositions are responsible for influencing the various properties of cement increase in lime content beyond a certain value makes it difficult to combine completely with other compounds. Consequently, free lime will exist in the clinker and will result in an unsound cement. An increase in silica content at the expense of alumina and ferric oxide makes the cement difficult fuse and form clinker. The approximate limits of chemical composition in cement are given in table. Constituents of Portland Cement Raw Material)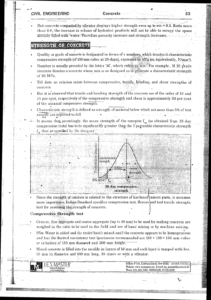 But its use is use is restricted where the prevailing temperature is below 40ec and environment chloride are present. It is strongly recommended for structures in aea water, coastal Are by lands Portland slag Cement(IS: 455:1989) It made by inter grinding portland cement clinker, H.35% ulated blast furnace slag(which is a waste product in the manufacture of pi iro Slag contains oxide-of lime, silica and alumina. Properties of these slag cements are similar to those of bEC but they have a lower lime and higher silica and alumina content With higher slag content, it has faulty high sulphate resistance, rendering it suitable for use in environments exposed to sulphate(in the spoil or in ground water) slag content in the cement varies between 25to e6 per cent of the total mass of mixture.
The Specific surface area of cement should be less than 225 marking. Expansion of the cement should pot be more than 10 mrn and 0.8 per cent when tested be Le Chatlier method and autoclave test respectively initial and Final setting times and compressive strength requirements are same as that for 33 grade OPC It can be used in all places where OPC is used, but due to its low heat of hydration it can also be used for mass concreting, eg, dams, foundations, etc Super Sulphated Portland Cement 0S 6909) It is manufactured by grinding together a mixture of 80 to 85% of granulated slag with 10 to 15% of calcium sulphate and about 5% of portland cement clinker to an extreme fineness In this cement CA, which is susceptible to sulphates is limited to less than 3.5% 18/227 100
THICKNESS OF A BRICK WALL  : Thickness of a brick wall depends upon the following: super-imposed load per unit length of the wall, Overall height of the wall, Height of the wall between floors Length of the wall between piers, buttresses, crosswalls (i.e., lateral support conditions. Strength of brick masonry, which depends upon the quality of bricks, quality of mortar and method of bonding. Points to be considered Height of each storey is not more than 4.8 m. The length of wall is the length measured between buttresses or cross-walls, which are properly bonded to the main wall, so that sufficient lateral support is available. e The thickness of wall should not be less than 116 of the storey height. For basement walls, the thickness should not be less than one-third the height of retained soil above basement level, nor should it be less than the thickness of wall at ground floor plus l cm Above is applicable for walls built of bricks of concrete blocks, using lime mortar(1 3), or cement mortar(1 6) or composite mortar n 2-9) Minimum thickness of external and partition mason walls of residential and business buildings
DISCLAIMER : THIS WEBSITE IS NOT THE ORIGINAL PUBLISHER OF THIS BOOK ON NET. THIS E-BOOK HAS BEEN COLLECTED FROM OTHER SITES ON INTERNET. ALL THE RIGHTS ON THIS BOOK BELONGS TO IES MASTER ACADEMY.