IES MASTER GATE MATERIAL
ENVIRONMENTAL ENGINEERING – 1
(WATER SUPPLY ENGINEERING)
GATE – PSU – IES – GOVT EXAMS – STUDY MATERIAL
FREE DOWNLOAD PDF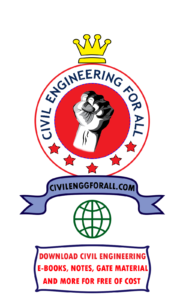 ABOUT THE BOOK :
IES MASTER'S GATE MATERIAL IS USEFUL FOR NOT ONLY GATE ASPIRANTS BUT ALSO IES, PSU JOBS, GOVERNMENT JOBS AND MANY COMPETITIVE EXAMS. IES MASTERS IS ONE OF THE TOP MOST GATE COACHING INSTITUTES IN INDIA. A MUST HAVE BOOK FOR MAINLY GATE PREPARING CIVILIANS.

CONTENTS :
Water Demand, it's Source & Conveyance.
Quality Parameters of Water
Treatment of Water
Distribution System
BOOK INTRODUCTION :
To design a water supply scheme, we must first estimate the population for which the scheme should be designed.  The scheme once installed must cater for the demand of projected population upto some predetermined future date.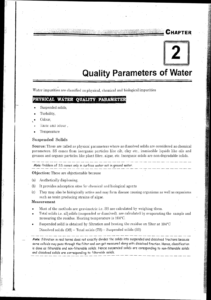 DESIGN PERIOD : A water supply scheme includes huge and costly structures (such as dams,  reservoirs)  which cannot be replaced or increased in their capacities,  easily and conveniently.  In order to avoid these future complications of expansion, the various components of a water supply scheme are purposely made larger,  so as to satisfy the community needs for a reasonable number of years to come.  This future period or the number of years for which a provision is made in designing the capacities of various components of the water supply scheme is known as design period.  The design period should neither be too long nor should it be too short.  It should not exceed the useful life of the component structure.  The design period recommended by the Goi manual on water supply, for designing the various components of a water supply project are as given below.
Types of Water Demands
Domestic water Demand:  This includes the water require building for drinking.  cooking, bathing,  gardening purposes etc ich may vary according to uie living conditions of the Consumers The total domestic water consumption usually amounts to 50 to 60%  of the total water consumptions.  The IS code lays down a limit on domestic water consumption between 135 to 225 Uh/d.  Under ordinary conditions (as per I.S.  code)  the minimum domestic water demand for a town with full flushing system should be taken at 200 uhld although it can be reduced to 135 u h/d for economically weaker sections and LIG colonies(Low Income Group)  depending upon prevailing conditions.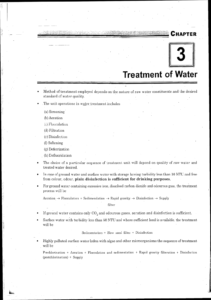 Institutional and Commercial Water Demand On an average, a per capita demand of 20 ih/d is usually considered to be enough to meet such commercial and institutional water requirements, although tf thi and mar be as high as 50 uhld for highly commercialised cities.  The individual requirements would be as fcllows Schools/Colieges 45 to 135 lpcd(i)  Offices 45 pcd fiii Restaurants 70 lpcd fiy Cinema and theatre 15 lpcd Hotels 180 lpcd v)  Hospitals 340 lpcd(when beds is less than 100). &  450 lpcd(beds exceeding 1000
Industrial Water Demand The industrial water demand represents the water demand o industries,  which are either existing or likely to be started in future,  in the cit for which water supply is being planned This quantity will thus vary with the number and types of industries present in the city
Demand for Public Uses This includes water requirement for parks,  gardening,  washing of roads,  etc.  A nominal amount not exceeding 5% of the total consumption may be provided to meet this demand.  Fire Demand:  The quantity of water required for extinguishing fire is not very large.  For a total amount of water consumption for a city of 50 lakhs population hardly amounts to 1 lpcd of demand.  But this water should be easily available and kept always stored in storage reservoirs.  Following requirements must be met for the fire demand
Three jet streams are simultaneously thrown from each hydrant one on the burning property, and one each on one either sides of the burning property.  The discharge of each stream should be about 1100 l/min The minimum water pressure available at fire hydrants should be of the order of 100 to 150 kNIm2(10 to 15 m of water head and should be maintained even after 4 to 5 hours of constant use of fire hydrant For cities having population exceeding 50,000,  the water required in kilo litres may be computed by the formula of 100VP,  where P population in thousands Some other formulas(Kuichling's,  Freeman,  National Board of Fire Under Writers,  Buston's Formula)  are also used(1)  Kuichling's Formula Q 3182 VP l/min P population in thousands where(2)  National Board of Fire Under Writers Formula for a central congested high valued city.  When population is or 2 lakhs Q 4, 637 VP 001 VP] min.  where P is in thousands(i) When population is 2 lakhs, a provision for 54600 Umin.  may be made with an extra additional provision of 9,100 to 36 400 umin.  for second fire.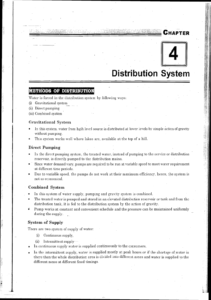 PIPE APPURTENANCES : When pumps lift water and water is delivered through large diameter pipes to treatment plants and distribution points, for safety and proper functioning of the supply and to isolate and drain the pipe line, the pipe line is divided in several section,  which helps for test,  inspection,  cleaning and repair.  A number of appurtenances provided at several suitable locations along the pipe line.  Some of the appurtenances help in maintaining safety of the pipeline.  The following shows a typical pipe line lay out where pipe line is passing through valley and ridges Drain. At summit points, gate valves are provided with air valves, whereas at valley points blow off or drain valves are provided.  Valves used in water works may be listed as stop valves.  non-return raives, low control valves, pressure control valves, energy distribution valves and air valves
Sluice valves are also known as gate valves or shut-off valves : These valves are provided to regulate the now of water through the pipe and are essential to divide the line into several sections.  These valves are usually placed at the summits of the pressure conduits where the pressure is low They are made up of iron with brass mounting, they are either solid wedge type or double disk type 2.  Air Valves Air valves are also known as air relief valves.  The water flowing through the pipe line always carries some air with it.  This air tends to accumulate at the summit of pipe line.  Due to the accumulation of air, a backward pressure is created which causes a blockage to the flow of water.  So, the air relief valve is provided at the summit to release the air pressure.  At every summit of a pipe line and d/s of sluice valve, an air valve should be provided.
These possess some automatic device which allows the water to flow in one direction only o These are made of brass or gun metal.  draws water from the pump.  When the pump is operated, the valve is opened but when the pump is suddenly stopped the valve is automatically closed and the water is prevented from returning to the pump.



Relief Valve or Safety Valve : The relief valves are also known as pressure relief valves or cut-off valves or safety valve. When the pressure of the water suddenly exceeds the permissible pressure due to water hammer phenomenon, then the valve is opened automatically and the excess pressure is released instantaneously.  Thus the pipe line is protected from bursting.
Scour Valve or Blow Off Valve or Drain valve : Scour valves are also known as wash-out valves. These are similar to the sluice valves, but the function is different.  Scour valves are provided at the dead-end of the pipe line.  The function of this valve is to remove the sand, silt etc from the pipe line.  6.  Foot valve is used at the end of pump suction pipe.  They prevent entry of debris into the pumping system and back flow.  7.  Butterfly valve Butterfly Valve are used to regulate and stop Foot the flow especially in large size conduits They are cheaper than sluice valves for larger sizes and occupy less space.  Butterfly Valve involve slightly higher head loss than sluice valves and also are not suitable for continuous throttling.
DISCLAIMER : THIS WEBSITE IS NOT THE ORIGINAL PUBLISHER OF THIS BOOK ON NET. THIS E-BOOK HAS BEEN COLLECTED FROM OTHER SITES ON INTERNET. ALL THE RIGHTS ON THIS BOOK BELONGS TO IES MASTER ACADEMY.