HYDROLOGY AND IRRIGATION
PART-1
MADE EASY GATE HANDWRITTEN CLASSROOM NOTES
FREE DOWNLOAD PDF
Hydrology & Irrigation Made Easy GATE Handwritten Classroom Notes PDF Download for free exclusively at CivilEnggForAll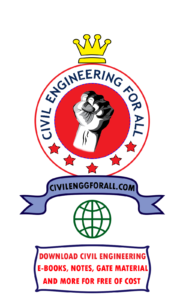 Hydrology & Irrigation Made Easy GATE Handwritten Classroom Notes
PLEASE NOTE : WE PROVIDE ONLY VERIFIED NOTES AND MATERIALS. ALL THE OTHER NOTES WHICH ARE AVAILABLE IN THE INTERNET WITH THE NAME MADE EASY CIVIL NOTES ARE FAKE AND ARE NORMAL CLASSROOM NOTES OF SOME COLLEGE. WE ALWAYS TRY TO BRING OUT QUALITY NOTES FOR FREE AND FOR THE SAKE OF STUDENTS WHO ARE REALLY WORKING HARD DAY AND NIGHT AIMING GOOD GATE/IES RANKS.
Hydrology :
It is the science of water which deals with the occurance, circulation and distribution of water on earth's surface and it atmosphere.
Hydrological Cycle :
It is a cycle in which water moves from one phase to another having different residence time. Over the ocean surface evaporation is greater than precipitation whereas on land precipitation is greater than evaporation. Sun is source of energy which drives hydrological cycle.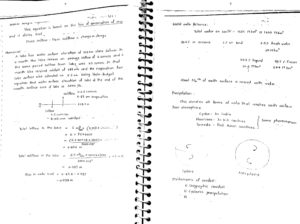 Residence Time :
This is the time taken by water particle in crossing one particular phase of hydrological cycle. The area draining into the river or stream is called the catchment area of that particular stream with respect to given location. In US English catchment area is also called as Watershed while in British English, ridge is termed as Watershed.
Ridge :
This is the line which demarkets one catchment area from its neighbouring catchment area. This is also called as Water divide or divide. It is called Watershed in British English.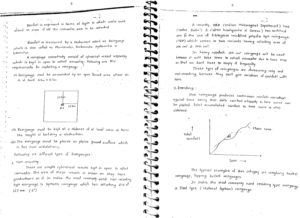 Rain : This is principal mode of precipitation in India. This denotes water droplets ranging from 0.5mm to 6mm. On the basis of Intensity, rainfall is classified into follows.
1. 0-2.5mm/hour – Light Rainfall
2. 2.5-7.5mm/hour – Medium Rainfall
3. More than 7.5mm/hour – Heavy Rainfall.
In India, rainfall data is collected everyday at 8.30AM and if this rainfall is more than 2.5mm on a day then that day is called Rainy Day.
Snow : These are ice crystals having a density of 0.1gm/cc
Drizzle : These are fine droplets of water whose size is less than 0.5mm and intensity is less than 1mm/hour.
Glaze : When droplets of water comes in contact with cold ground surface of approximately 0 degrees Celsius, then water is converted into ice which is called Glaze.
Sleet : This is frozen raindrop of transparent nature.
Hail : This is lumpse of ice whose size is more than 8mm. As per WMO or International Standards (World Meteorological Organization) lumps of ice greater than 5mm is called Hail and of less than 5mm is called Groupel
PASSWORD :

CivilEnggForAll
OTHER USEFUL LINKS FROM CIVILENGGFORALL
SURVEYING (PART-1) MADE EASY GATE HANDWRITTEN NOTES : CLICK HERE
SURVEYING (PART-2) MADE EASY GATE HANDWRITTEN NOTES : CLICK HERE
FLUID MECHANICS (PART-1) MADE EASY GATE HANDWRITTEN NOTES : CLICK HERE
FLUID MECHANICS (PART-2) MADE EASY GATE HANDWRITTEN NOTES : CLICK HERE
ENVIRONMENTAL ENGINEERING (PART-1) MADE EASY GATE HANDWRITTEN NOTES : CLICK HERE
ENVIRONMENTAL ENGINEERING (PART-2) MADE EASY GATE HANDWRITTEN NOTES : CLICK HERE
GEOTECHNICAL ENGINEERING (PART-1) MADE EASY GATE HANDWRITTEN NOTES : CLICK HERE
GEOTECHNICAL ENGINEERING (PART-2) MADE EASY GATE HANDWRITTEN NOTES : CLICK HERE
RAILWAY ENGINEERING MADE EASY GATE HANDWRITTEN NOTES : CLICK HERE
HIGHWAY ENGINEERING MADE EASY GATE HANDWRITTEN NOTES : CLICK HERE
SURVEYING AE & AEE HANDWRITTEN NOTES : CLICK HERE
GENERAL SCIENCE AE AEE HANDWRITTEN NOTES : CLICK HERE
STRUCTURAL ANALYSIS AE & AEE HANDWRITTEN NOTES : CLICK HERE
PERT AND CPM AE AEE HANDWRITTEN NOTES PDF : CLICK HERE
Geography AE AEE Ace Academy Handwritten Notes PDF : CLICK HERE TO DOWNLOAD
Indian Polity AE AEE Civil Engineering Handwritten Notes PDF : CLICK HERE TO DOWNLOAD
Economics AE AEE Civil Engineering Handwritten Notes PDF : CLICK HERE TO DOWNLOAD