HYDROLOGY
ACE ACADEMY IES ESE HANDWRITTEN CLASSROOM NOTES
ENGINEERING SERVICES GOVT EXAMINATION NOTES
FREE DOWNLOAD PDF
Hydrology IES ESE Ace Academy Handwritten Classroom Notes PDF Free Download only at CivilEnggForAll
PLEASE NOTE : MOST OF THE PDF'S AVAILABLE IN THE INTERNET WITH THE NAME OF IES ACE ACADEMY NOTES ARE FAKE. FOR THE SAKE OF INCREASING THEIR WEBSITE POPULARITY/TRAFFIC, FEW WEBSITES ARE ALLEGEDLY PROVIDING SOME USELESS MATERIALS WITH THE NAME OF IES ACE ACADEMY NOTES WHICH IN RETURN MIGHT RUIN STUDENT'S VALUABLE MARKS. TO HELP THE STUDENTS WHO ARE WORKING THEIR LEVEL BEST TO CRACK THE RANKS, WE ARE PROVIDING ONLY VERIFIED ACE ACADEMY IES NOTES HERE. BUT HOWEVER THERE MIGHT BE SOME MANUAL ERRORS IN THE CONTENT OF THIS BOOK.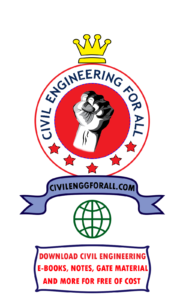 Hydrology IES ESE Ace Academy Handwritten Classroom Notes PDF
INTRODUCTION TO RUNOFF : Runoff means the draining or flowing off of precipitation from a catchment area through a surface channel. It thus represents the output from the catchment in a given unit of time. Consider a catchment area receiving precipitation.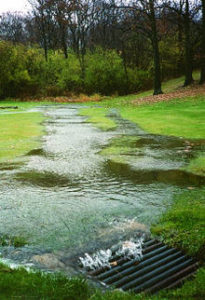 For a given precipitation, the evapotranspiration, initial loss, infiltration and detention storage requirements will have to be first satisfied before the commencement of runoff. When these are satisfied, the excess precipitation moves over the land surfaces to reach smaller channels This portion of the runoff is called overland flow and involves building up of a storage over the surface and draining off of the same.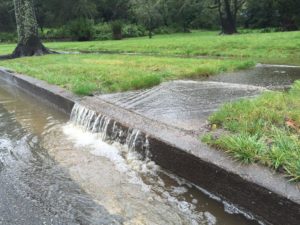 Usually the lengths and depths of over and flow are small and the flow is in the laminar regime. Flows from several small channels join bigger channels and flows from these in turn combine to form a larger stream, and so on, till the flow reaches the catchment outlet. The flow in this mode where it travels all the time over the surfaces overland flow and through the channels as open-channel flow and reaches the catchment outlet is called surface runoff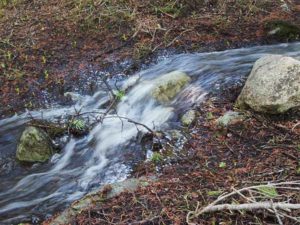 A part of the precipitation that infilters moves laterally through upper crusts of the soil and returns to the surface at some location away from the point of entry into the soil. This component of runoff is known variously as interflow, through flow, storm seepage, subsurface storm flow or quick return flow.
PASSWORD :

CivilEnggForAll
OTHER USEFUL LINKS FROM CIVILENGGFORALL
IRRIGATION ACE ACADEMY IES NOTES : CLICK HERE
SURVEYING ACE ACADEMY IES NOTES : CLICK HERE
MATHS MADE EASY HANDWRITTEN NOTES : CLICK HERE
REASONING AND APTITUDE MADE EASY GATE HANDWRITTEN NOTES : CLICK HERE
OPEN CHANNEL FLOW MADE EASY GATE HANDWRITTEN NOTES : CLICK HERE
ENGINEERING MECHANICS MADE EASY GATE HANDWRITTEN NOTES : CLICK HERE
BUILDING MATERIALS MADE EASY GATE HANDWRITTEN NOTES : CLICK HERE
CPM & PERT MADE EASY GATE HANDWRITTEN NOTES : CLICK HERE
RCC MADE EASY GATE HANDWRITTEN NOTES : CLICK HERE
STRUCTURAL ANALYSIS MADE EASY GATE HANDWRITTEN NOTES : CLICK HERE
STRENGTH OF MATERIALS MADE EASY GATE HANDWRITTEN NOTES : CLICK HERE
STRENGTH OF MATERIALS (PART-1) MADE EASY GATE HANDWRITTEN NOTES : CLICK HERE
STRENGTH OF MATERIALS (PART-2) MADE EASY GATE HANDWRITTEN NOTES : CLICK HERE